This Under-The-Radar Japanese Scalp Care Brand Has Made My Hair So Shiny & Healthy
Courtesy of Erin Lukas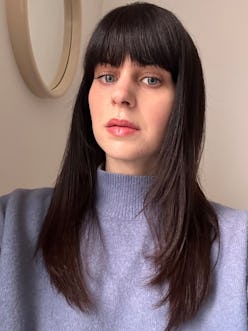 We may receive a portion of sales if you purchase a product through a link in this article.
In our series Trial Run, TZR editors and writers put the buzziest new beauty products to the test and share their honest reviews. This week, beauty editor Erin Lukas is testing the buzzy Michiru hair care line.
Arguably, one of the best ways to fully experience a city when traveling is to do like the locals do. This includes eating at unassuming restaurants, shopping in small boutiques, and hitting up drugstores and department stores to scoop up that country's cult-favorite beauty products that can't be purchased back home – especially if you find yourself in beauty hubs like Japan, South Korea, or France. However, if a flight isn't in the cards in the near future, the good news is some of these popular overseas brands make their way stateside. The latest being Michiru, a Japanese holistic scalp care brand owned by beauty conglomerate Unilever.
Michiru, which translates to "fullness" in Japanese, is a collection of eight products centered around scalp health and hair growth. The lineup consists of three shampoo-conditioner pairings that clarify, strengthen, or volumize the hair, a scalp tonic to balance the scalp and nourish the hair follicles, and an over-the-counter minoxidil treatment for thinning hair. All of the formulas are powered by Japanese-sourced ingredients such as rice protein, sakura flower, citrus yuzu, and silk powder, and are silicone-, sulfate-, and paraben-free.
With Michiru, Unilever hopes to bring prestige-quality scalp care products to the mass market in the U.S. (It's exclusively available at Target and retails for $15-$30.)
"In my patients and on social media, I've seen an overall lack of understanding of the importance of scalp care as it relates to hair health," say Dr. Mamina Turegano, a triple-board certified dermatologist who has partnered with the brand for its U.S. launch. "As a dermatologist, I know that hair growth starts at the scalp, which is why I am happy that Michiru offers an affordable and easily accessible product range that combines holistic wellness with advanced science that delivers scalp solutions and primes the scalp for healthy, growing hair."
Ahead of its launch, I tested the brand's Clarifying Shampoo, Hydrating Conditioner, and Scalp Tonic for a month. Keep reading for my honest thoughts on Michiru.
Fast Facts
Price: $15
Size: 2 fl. oz (scalp tonic); 9 fl. oz (shampoo and conditioner)
Clean/Cruelty-Free: Yes
Best For: Unbalanced scalps and damaged, dry hair
Ingredient Highlights: Yuzu extract, peony extract, niacinamide
What We Like: Deeply hydrating, lightweight, subtle fresh scent
What We Don't Like: Nothing!
Rating: 5/5
How TZR Keeps Score: 1/5: Making a return; 2/5: Keeping as a backup; 3/5: Finishing to the last drop; 4/5: Recommending to my group texts; 5/5: Already on auto-replenish
The Formula
The Clarifying Shampoo and Hydrating Conditioner duo are designed to treat oily scalps and remove product buildup. Both prime the scalp for hair growth by removing excess sebum and restoring moisture with the help of Japanese-sourced hero ingredients peony and yuzu extracts. These plant-derived antioxidants are known anti-inflammatories so they soothe the scalp and support its microbiome. Both the shampoo and conditioner have a subtle fresh floral scent that isn't headache-inducing.
Niacinamide is the star ingredient of the Scalp Tonic. The all-star antioxidant helps regulate ceramide production and balance the microbiome. According to the brand's clinical trials, the Scalp Tonic is proven to reduce scalp dryness in two weeks with regular use.
My Typical Hair Care Routine
Because I color my hair, my hair care routine is centered around preventing and minimizing damage from chemical processing and regular heat styling. I also prioritize restoring hydration because my hair is thick and naturally on the dry side (and using a flat iron on it almost daily isn't doing me any favors). Color-safe, nourishing shampoo and conditioner, leave-in conditioner, and heat protectant are in my regular product rotation. I also try to avoid formulas with sulfates and silicones because they strip color and weigh hair down.
Given my thick hair, I try to limit my wash days to two to three times a week. While my scalp doesn't get too greasy, my bangs do, and my mid-lengths to ends feel grimy from using styling products like dry texturizing spray.
My Experience & Results
I'll admit, I was nervous about using Michiru's Clarifying Shampoo because it states it's perfect for those who like a "deep-clean, freshly washed feeling." While my hair does need a deep clean by day three post-wash, I don't want my strands feeling squeaky clean. Luckily, the shampoo leaves hair with a bit of slip and few tangles. (Whenever a shampoo is too cleansing my hair turns into a giant knot.)
The Hydrating Conditioner offers extreme moisture but doesn't weigh hair down. I was shocked at how soft, smooth, and shiny my hair was the first time I blew it out after washing it with this shampoo-conditioner duo.
As for the Scalp Tonic, I'll also fess up that I was skeptical I'd like it. I've tried a number of hair serums in the past, and despite knowing my scalp is skin and deserves the same TLC I give my face, I just can't make myself be compliant about using them. However, this tonic absorbs quickly into the scalp and doesn't weigh down my roots or make them look greasy. I've been using it on my damp hair after every wash, and have noticed my scalp is no longer itchy on the last day of my wash cycle anymore and my roots feel fresher longer.
Is Michiru Worth It?
Given that the Michiru shampoo, conditioner, and scalp tonic are made with researched ingredients found in skin care and feel luxurious to use without the hefty price tag, I think this new line is worth picking up on your next Target run – especially if you're someone who deals with an unbalanced scalp, thinness, or hair loss.
While I can't speak to the formulas that target thinness and hair loss, the results of the products I did try have impressed me enough to continue including them in my routine. Plus, I like the fact that I can quickly go to a physical store to get refills without waiting for an online order to come in. Because let's face it: who hasn't gone to squeeze out some conditioner mid-shower only to realize there's just enough left to get you through that wash?