6 Unexpected & Gorgeous Ways To Wear Eye Makeup From The PFW Runways
Courtesy of Jason Lloyd Evans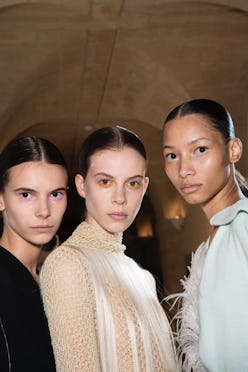 As far as beauty trends go, dramatic eye makeup is on a marathon, not a sprint. In recent years, face mask requirements forced makeup enthusiasts to get creative with bold, colorful eyeliner during the first half of the pandemic. Then, the experimental looks of Euphoria characters Maddy Perez and Jules Vaughn had the show's fans in a chokehold, inspiring them to treat their eyelids like canvases. Because current events always make their way to fashion week runways, avant-garde eye makeup looks dominated the past seasons' runways. Fast forward to the Fall/Winter 2023 season, and bold eye makeup is still going strong. However, instead of cloud- or cherry-shaped eyeliner, the vibrant eye makeup ideas from Paris Fashion Week runways are bold twists on classic techniques.
This approach was seen on major runways such as Victoria Beckham, who featured pastel reverse cat eyes; Giambattista Valli, who added a mosaic glitter effect to models' eyelids; Chloé who swiped metallic gold and silver to the inner and outer corners of the eyes; and Dior who featured diffused, smudgy cat eyes. While these looks are all undeniably bold, they feel familiar because they're reimagining the styles you've had in your eye makeup wardrobe for years.
So if you need inspiration on how to refresh your go-to eye makeup looks, the PFW F/W '23 shows are ripe with ideas. Ahead, TZR has compiled the most unexpected and downright gorgeous eye makeup ideas from the runways.
Mosaic Glitter
Giambattista Valli F/W '23Pascal Le Segretain/Getty Images Entertainment/Getty Images
Giambattista Valli F/W '23Giovanni Giannoni/WWD/Getty Images
The mosaic glitter eye makeup at Giambattista Valli is a literal work of art. While the models' had shiny foil layered on their eyelids, the look can easily be DIY-ed this with glitter eyeshadow. And while this runaway beauty moment is born out of the F/W '23 season, it could easily be translated as an elevated colorful festival makeup look this spring.
Pastel Pops
Victoria Beckham F/W '23Courtesy of Jason Lloyd Evans
Victoria Beckham F/W '23Courtesy Jason Lloyd Evans
While the fall season is often associated with warm neutrals and deep vampy shades, the vibrant under-eye eyeliner at Victoria Beckham's show is a refreshing eye makeup look to try for fall — think of the poppy pastel hues as an instant mood-lifter on gloomy, chilly afternoons. Makeup artist Fara Homidi reached for Victoria Beckham Beauty's new EyeWear Shadow Sticks when crafting the liner. The pigmented shadows offer impressive color payoff and a budge-proof finish.
Cinematic Smoky Eyes
Schiaparelli RTW F/W '23Courtesy of Schiaparelli
Schiaparelli RTW F/W '23Courtesy of Schiaparelli
Modern yet retro, the smoky eyes at Schiaperelli's first ready-to-wear show "are expertly shaped and seductively smoldered with warm, burnished tones of brown, ochre, and terracotta," according to lead makeup artist Pat McGrath via a press release. The legendary makeup artist used seasonal shades from her own namesake brand to achieve the look, including the Mothership I: Subliminal Palette, Skin Fetish: Highlighter + Balm Duo, Mothership VI: Midnight Sun, and PermaGel Ultra Glide Eye Pencil.
Metallic Swipes
Chloé F/W '23Victor VIRGILE/Gamma-Rapho/Getty Images
Chloé F/W '23GEOFFROY VAN DER HASSELT/AFP/Getty Images
The subtle swipes of metallic gold and silver are perhaps the easiest ways to dress up your everyday makeup look. At Chloé, models wore soft swipes of the shades on their inner or outer corners of the eyes, paired with an otherwise bare face. Not only is this a subtle yet eye-catching look (pun intended), the hint of shimmer will open up and awaken the eyes.
Diffused Cat Eye
Dior F/W '23Victor VIRGILE/Gamma-Rapho/Getty Images
Dior F/W '23Victor VIRGILE/Gamma-Rapho/Getty Images
There's no need to stress about drawing two even wings when creating a cat eye this fall, thanks to the edgy, (almost) effortless eye makeup look Dior Beauty creative and image director Peter Philips conjured up for the French fashion house's F/W '23 show. The look features inky, smudged out wings that can be achieved with a pencil liner, black eyeshadow, and a smudge brush.
Navy Tighttline
Givenchy F/W '23Francisco Gomez de Villaboa/WWD/Getty Images
Givenchy F/W '23Francisco Gomez de Villaboa/WWD/Getty Images
While Y2K is still dictating many of upcoming season's trends, the '90s also have a heavy influence on the F/W '23 runway beauty looks. Take Givenchy's smudgy tighttline eyeliner for example. The technique is a nod to the decade's minimalist beauty trends, and the navy liner and eyeshadow strengthens the reference.