Benefit's New Mascara Could Easily Pass As Lash Extensions
Courtesy of Erin Lukas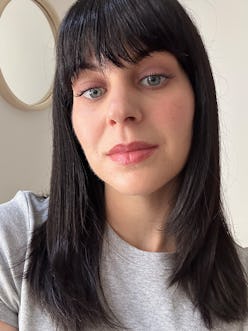 We may receive a portion of sales if you purchase a product through a link in this article.
In our series Trial Run, TZR editors and writers put the buzziest new beauty products to the test and share their honest reviews. This week, TZR's deputy beauty editor Erin Lukas is testing Benefit Cosmetics' Fan Fest Mascara.
I wholeheartedly understand the appeal of lash extensions and why they're so popular. The concept of full, defined lashes without having to apply mascara? I'll happily eliminate a step in my makeup routine. However, like most beauty services, there's a catch: Extensions require extra care. To sum it up, being super gentle when removing makeup and switching certain skin care formulas — like cleansing oils — from my routine to ensure they hold up isn't going to save me a lot of time in the long run. So I'll happily continue wearing mascara until a low-maintenance semi-permanent option exists. With that, I've built an arsenal of favorites, but I'm always up for trying new ones that promise to deliver even more results than my current go-to. Enter Benefit Cosmetics Fan Fest Mascara.
Given the brand's previous track record with creating cult-favorite formulas that live up to the hype (BADgal BANG! or They're Real!, anyone?), I had no doubts this new mascara would quickly earn a spot in my regular rotation. While the other brand's formulas focus on volume and length, this one offers both benefits plus delivers a fanning effect to fake the look of fluttery lashes. A true multitasker, there's no need to cocktail mascaras or prime lashes with a curler. As someone who is always doing at least two things at once (or thinking about multiple tasks), I was easily sold on test driving a tube.
Ahead, my honest thoughts on Benefit's latest mascara innovation. Spoiler: You won't be disappointed adding it to your cart.
Fast Facts
Price: $28
Size: 8.5g/0.3 oz.
Clean/Cruelty-Free: No
Best For: Volumizing and amplifying the look of lashes
Ingredient highlights: Provitamin B5, cranberry extract, rice wax
What we like: Delivers results in a single coat; doesn't clump; the brush makes it easy to get every lash
What we don't like: Nothing so far!
Rating: 5/5
How TZR Keeps Score: 1/5: Making a return; 2/5: Keeping as a backup; 3/5: Finishing to the last drop; 4/5: Recommending to my group texts; 5/5: Already on auto-replenish
The Formula
Like the name 'Fan Fest' implies, this mascara promises to volumize lashes with a fanned-out effect and stay smudge- and flake-free for up to 24 hours. The formula is infused with provitamin B5 to help condition lashes and keep them smooth, cranberry extract to nourish hairs, and rice wax to lift and separate them. It's important to call out the nourishing ingredients — I chalk them up to this mascara staying clump-free when applying multiple coats.
The wand is also noteworthy. It has what the brand is calling a 'Full-Flex Fiber Brush', which has a 40-degree curve that lifts lashes from root to tip and coats hard-to-reach hairs at the inner and outer corners.
My Typical Makeup Routine
Because I will always pick an extra 10 minutes of sleep over a complex morning routine, I like to keep my makeup simple and reach for multitasking products that double as skin care. I'll start with a skin tint, like Bobbi Brown's Vitamin-Enriched one, which also boasts SPF 15 protection. Then, I'll finish my complexion off with a cream contour (Westman Atelier's stick is nice and subtle), cream blush (I love the dewy finish of Pat McGrath Lab's Legendary Glow Colour Balm), a touch of highlighter on the high planes of my face (I typically reach for Victoria Beckham's creamy stick), and a swipe of rosy-nude lipstick (Chantecaille makes some of my favorites in a moisturizing stain finish).
I typically leave my eyes bare save for a few coats of mascara because my eyelids get really oily and I can't be bothered to do touch ups. That is, unless there's a special event on the books that day. As for my brows, I also leave them bare more often than not. (A benefit of having bangs.)
My Experience & Results
Mascara application is pretty straightforward: I twisted the wand out of the tube and ran the mascara over my lashes from root to tip. With just one coat, my lashes definitely looked fuller, defined, and fanned — I especially noticed the latter benefit on my outer corners. Out of the handful of times I've worn it, I've stuck to one coat, but for testing purposes, I layered three to see if it would flake or make my lashes clump together. Thankfully, it did not, which was a godsend as I did not have time to remove and reapply mascara that morning.
As for wearability, the formula held up during a New York heatwave that spanned an entire week with temperatures hitting triple digits with the humidity. While my hair didn't win the fight against humidity, my mascara didn't run or smudge. This includes my trip to Beyoncé's Renaissance Tour.
My lashes before. Courtesy of Erin Lukas
My lashes after. Courtesy of Erin Lukas
Is Benefit Cosmetics' Fan Fest Mascara Worth It?
As a beauty editor, I've tested countless mascaras over the years, some bad, many just OK, and a few that have achieved holy grail status in my books. After wearing Fan Fest nearly every day for the better part of two weeks, I can confidently say this formula is well on its way to becoming one of my all-time favorites. It delivers on its promises and gives me that extension-level look I crave — minus the upkeep.