The 5-Minute Makeup Routine I Swear By For A Flawless Look
Four products is all it takes.
Rebecca Iloulian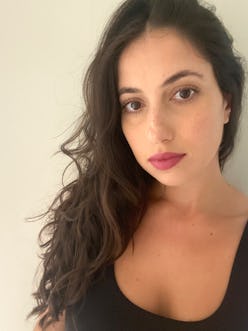 Ever since I was a little girl, I've been infatuated with makeup. I used to hover over my mom at her vanity as she'd get ready for a glamorous night out, mesmerized by her decadent lipsticks and captivating eyeshadows. I would meticulously test out all of her products on my seven-year-old self, wishing for the day I, too, would look as beautiful as her. Now on the brink of my 30s, I have free rein to wear such glamorous makeup as often as I'd like. And while I still love to do so from time to time, I've also uncovered an appreciation for a more subtle, simple beauty aesthetic. Not only because clean girl beauty is majorly trending, or because I can save valuable time with a simplified, five-minute makeup routine, but also because I've learned from experience that you don't actually need that much makeup for a flawless look.
In fact, while a full face of makeup can be magical for the right occasion — and what I used to associate with glamour — I feel more effortlessly beautiful when I'm wearing less products overall. When using too many different things even if they are lightweight, I can feel them sitting on my face, one product piled on top of the other: primer, foundation, concealer, bronzer, blush, cream highlighter, powder highlighter. There's nothing glamorous about that. My skin is always uncomfortable under the weight of all these various formulas, and after a few hours, foundation and eyeshadow inevitably either start to fade, crease, or dry out. It's not practical for a full day's worth of activities.
The recent years have presented us with a world of beauty burnout — with so much saturation in the market (it seems like there is a new celebrity beauty brand every week) it's become overwhelming to navigate. Who has time for 20 different products and a routine that will take an hour every day?! Not to mention, the cost of all these supposed must-have products starts to add up fast. So, I took a step back and reconsidered what I actually need for a flawless everyday beauty look. And as it turns out, it's not that much. In fact, it's only four products.
By paring down the products I use to this small targeted selection, I can achieve a classic beauty — think French girl je ne sais quoi. My five-minute makeup routine sticks to the basics, for a brighter, more youthful complexion. I skip the foundation and most other complexion makeup altogether and hone in on what I would consider to be the most important product for each facial feature: skin, eyes, and lips. With my quick and effective 5-minute routine, your makeup will be perfected faster than your morning coffee takes to brew.
Ahead, see my four-step guide to flawless, five-minute makeup.
We at TZR only include products that have been independently selected by our editors. We may receive a portion of sales if you purchase a product through a link in this article.
Step One: SPF
Every beauty girl knows that no makeup routine is complete without the essential first step of sunscreen. Not only will it serve the obvious purpose of protecting your skin from sun exposure, it will also act as a primer for the whole look, providing a dewy and luminous base for the rest of your makeup. I tend to use more oil-based formulas as I prefer my sunscreen to create a nice glow. I also switch off between tinted and non-tinted formulas, depending on the day and if I have any extra redness that needs to be covered. I do, however always wear at least SPF 30 — better safe than sorry.
Step Two: Concealer
I skip the foundation altogether and go straight for concealer. A creamy, lightweight formula will provide targeted coverage where needed without caking my whole face. I've found that concealers help brighten my complexion, whereas foundation can have the opposite effect. Concealer creates a perfectly fresh canvas — and always makes it look like you got a great night's sleep. Apply the concealer as needed, though, for me, that would be under the eyes, around the edges of my nose, and on any one-off red spots around my face. It blends in seamlessly with my sunscreen for a dewy look, and all the while my skin can actually breathe.
Step Three: Mascara
A basic product, though not to be underestimated, mascara is the key to making your eyes pop. It's buildable so you can go as thick or subtle as you want with lash volume, but the combination of the concealer brightening your undereyes combined with the mascara lengthening your lashes will ensure your peepers look extra large. I also love both a top and bottom lash look. Without the use of any other eye makeup products, the mascara simply enhances what's already there, providing a youthful, fresh-faced aesthetic that lasts all day.
Step Four: Lipstick
A little pop of color on your lips goes a long way. Though it's the last step in my five-minute makeup routine, I'd argue it's the most important and a must to top off my beauty look. It's the perfect finish to the clean look, offering a healthy flush that pulls the whole thing together. You can go subtle with a rosy pink or soft nude, or add a more vibrant pop of color with a bright hue, like a bold red. Either way, your pout is sure to look extra kissable against your fresh, glowy makeup.
This article was originally published on