Med Spas Are More Popular Than Ever — But Are They Legit?
simarik/E+/Getty Images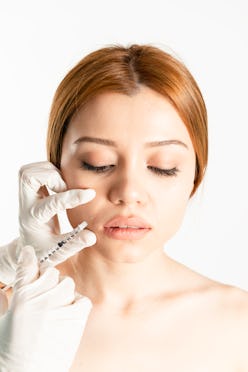 The line between beauty and wellness is blurred for good reason. True, you can have healthy skin without embracing meditative practices, but it's scientifically proven that the mind-body connection can impact its appearance. (High cortisol, anyone?) As a result, it's now common for your beauty maintenance routine to include both mindful treatments, like massages, and aesthetic treatments, like injectables. That's why med spas continue to rise in popularity. "Much like the name suggests, a medical or med spa for short is a facility that offers a unique blend of medical expertise and spa-like indulgence," says Dr. Carol Eisenstat, M.D., founder of Line Eraser MD in Livingston, New Jersey.
Yet, despite the growing number of facilities, it's still confusing how a med spa differs from a traditional day spa, and how their treatment menus differ. Since many med spas offer trendy, minimally-invasive aesthetic procedures like Botox and filler as an alternative to going to a dermatologist's office, their legitimacy is also questioned.
Ahead, TZR spoke with three experts in the space to clear up some of the mysteries surrounding med spas, plus they share their expert advice for finding a trustworthy facility.
What Is A Med Spa?
According to Dr. Hadley King, M.D., board-certified dermatologist and founder of Dr. Hadley King Dermatology in New York City, there is no official definition of what a med spa is as the guidelines vary depending on the state. "Generally speaking, med spas are thought of as a cosmetic practice that provides services typically offered at a spa, such as facials, in addition to services that are considered medical procedures, like Botox and facial fillers," she says. Dr. Eisenstat adds that these procedures are designed to enhance your appearance and give you a rejuvenated look. "Unlike non-medical or cosmetic settings, med spas deliver a level of precision and expertise that's backed by clinical research and testing to ensure their effectiveness and safety," she says.
Med Spas Vs. Day Spas
While med spas may have a similar serene setting, their offerings are very different from a standard day spa. "Instead of just massages and botanical body wraps, think of a med spa as a skin care facility that administers treatments under the supervision of licensed professionals," says Joie Tavernise, celebrity esthetician and founder of JTAV Clinical Skincare in New York City. As Tavernise explains, the professionals can range from doctors, nurses, estheticians, and physician assistants, but most importantly, they specialize in specific types of treatments.
Aside from who administers the treatments, the element that most notably sets med spas apart from their holistic counterparts is the types of services they offer. "Day spas primarily offer relaxation-oriented treatments that don't require the medical oversight necessary at a med spa," says Dr. Eisenstat. She continues stating that, the addition of a medical physician allows most med spas to provide advanced anti-aging treatments, like Botox injections, cosmetic fillers, and non-surgical thread lifts, to address specific and distinct concerns. While these types of medical procedures should be done under the supervision of a licensed physician, Dr. King notes "that enforcement often varies from state to state and should be carefully researched before you make an appointment."
In that vein, the intent of the two facilities is distinctly unique. Skin care services at a day spa are aimed toward well-being and typically include facial massages. And while they can certainly be relaxing, they're most beneficial for subtle sculpted results. Med spas, on the other hand, provide a mix of treatments that are intended to treat specific skin care issues and deliver visible results. "Fine lines, wrinkles, hyperpigmentation, skin laxity, acne, and unwanted hair are just a few of the concerns that can be treated at a med spa with long-term plans designed for each individual needs," says Tavernise.
What Kinds Of Services Do Med Spas Offer?
Most med spas offer a range of services that are focused on dermatological procedures. Some, like Botox and dermal fillers, are more common than others, like platelet-rich plasma (PRP) treatments which use your body's own growth factors to revitalize your skin. But all of the services are designed to achieve a specific outcome. For instance, chemical peels and laser facials that rejuvenate the skin or microneedling, which promotes collagen production. "Med spas are results-driven, meaning that you can clearly communicate your concerns and expect to see an apparent change," says Tavernise.
Certain locations may also provide non-invasive body treatments, such as contouring, sculpting, fat removal, and muscle building that are intended to provide almost instant results. Tavernise explains that the short recovery time is what makes med spa services so desirable. "Most of the treatments involve minimal downtime and allow you to quickly resume your daily lifestyle, which can be ideal for busy schedules," she says.
What Services Should You Avoid At Med Spa?
Given that a med spa is not a surgical facility, you should only be opting for treatments that are entirely non-invasive. "Any procedure that involves surgery or puts you at risk for an adverse outcome, such as scarring or necrosis, shouldn't be performed at these locations," notes Dr. King. Cutting into the skin of any kind is another red flag and immediate cause for concern. While licensed professionals do ensure safety, Dr. King also recommends having an experienced board-certified physician directly on the premises to be available as needed.
How Do You Find A Reputable Med Spa?
With so many options available, it's important to find a location that provides physician-led treatments and offers an environment that makes you comfortable. A thorough deep dive into the facility's reviews and credentials of the staff, is a good place to start. "Look for licensed medical professionals who are directly involved in overseeing all treatments offered," says Dr. Eisenstat. Not only is this crucial for your results but a doctor's expertise is essential to assess your individual medical history, prescribe appropriate treatments, and handle any potential complications that might arise.
In a similar sentiment, Dr. King adds that understanding the differences in training can also be beneficial to finding a valid spa. "Though some particulars vary by state, much of the training information can be found with a little digging online," she says.
Dr. Eisenstat also notes that many reputable spas will offer customized treatment plans that can be tailored to your unique needs and consultations with any appointment. "Come prepared with realistic expectations about the outcomes of treatments, but a reputable med spa should place a strong emphasis on your well-being and provide honest and transparent information."