How To Style A Headband, Courtesy Of These 7 Celebrity-Approved Looks
Marc Piasecki/GC Images/Getty Images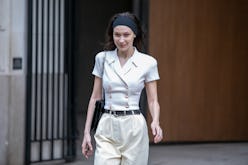 Few accessories can be worn on both the red carpet in Cannes and, as befittingly, a Sunday morning SoulCycle session. A beauty staple of royal standards, a frequent runway feature, sold at your nearest Target in packs of three for under $5 — such a peculiar mashup of idiosyncrasies can only be describing one thing: the ever-adaptable, eternally stylish headband. How to style one without looking like a first grader, ahead.
Nothing in the sartorial world measures up to the headband in terms of longevity and versatility. It's been around for decades, continuously reinventing itself and resurging in periodic waves: the silk scarves of the '60s, accordion styles of the '90s, then the preppy, bow-clad versions championed by Blair Waldorf during the Gossip Girl age.
In its latest revival, all retro iterations of the timeless trend come to a head. Bella Hadid has made the cotton kind you wear to the gym an unexpected street style essential while recent red carpets have favored more embellished takes. And for every category of headband that exists, there's another umpteen ways to wear them (including backwards, according to Fendi's Fall/Winter 2020 show). Seven ways to style the beloved accessory, below.