Chrissy Teigen's Headband Of The Day Series Is Back & No, This Is Not A Dream
Jemal Countess/Getty Images Entertainment/Getty Images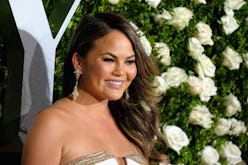 John Legend may have 10 Grammys under his belt, but his sweetest song to date has to be "Headband of the Day." In 2018, Chrissy Teigen's daily series where she showcased a hair accessory on her Instagram Story with Legend singing the catchy tune in the background went viral. On Thurs., Chrissy Teigen announced that Headband of the Day is back.
In case you haven't noticed, the Teigen-Legend crew has been vacationing in Thailand as of late and every selfie the model shares on social media introduces a new lust-worthy hair accessory. It made fans start begging for a revival of the wildly popular Headband of the Day series, to which Teigen replied, "I literally just did."
Shortly after making the sly announcement, she posted a video on her Story of 40 or more headbands laid out on a table and Legend belting out that nostalgic melody somewhere in the back.
"Headband of the day, it's the headband of the day. Push your locks away with the headband of the day," he sang. You can now expect to see one darling piece featured on her Story daily, starting with the dreamy pink braided one she posted earlier in the week.
When she kicked off the series — which fans have since shortened to HBOTD, affectionately — last year, it became so popular that she compiled all the looks into a highlight on her Instagram. The featured headbands are typically shoppable, but you can bet that she picked up a handful of those new ones at one of the Thai markets she's been frequenting lately.
There were a number of silky ones in pastel colors, plenty of floral print, a vast collection of ones with that trendy knot at the top, braided ones in just about every color, animal print, and you-name-it.
Some of the ones she's worn recently to hold you over, ahead.
Shop The Look