The Paris Fashion Week Runways Want You To Ditch Your Typical Cat Eye
Courtesy of Balenciaga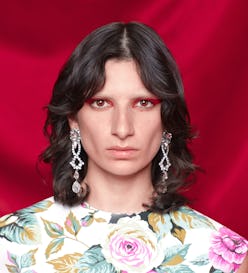 There is an elite selection of makeup products that everyone has in their collection, no matter their aesthetic or level of artistry. Back eyeliner is a prime example of one of the common items in this capsule. Whether you prefer a traditional kohl pencil, a gel, or a liquid pen, it's arguably one of the most versatile product categories. From a subtle smudge along the upper lash line to a graphic wing, the possibilities are, in theory, endless. The caveat? The rolodex of styles you personally rely on can start to feel stale. Thats where all of the exciting eyeliner looks from Paris Fashion Week Spring/Summer 2024 come in.
On the runways, designers showcased a number of fresh takes on classic styles. There's Balenciaga's cherry red wings for cat eye fans, and the glamorous grungy navy liner at Nina Ricci for those embracing their former Indie Sleaze days. While those two examples lean bold, there are subtle styles for minimalists to pull from, too. At Anne Demeulemeester, models wore soft, lived-in liner on their upper lash lines, while Giambattista Valli used shimmery white eyeshadow to highlight the eyes.
Ahead, TZR breaks down the most exciting takes on classic eyeliner looks from the PFW S/S '24 runways.
Nina Ricci's Grungy Glam
Nina Ricci is calling it: Smudged, grunge-inspired eyeliner will continue to be popular come spring. And it's easy to see why — the effortless vibe of smoked-out liner topped with matching eyeshadow adds edge to any look. In lieu of black, Sofia Tilbury used a deep navy shade (an upcoming Charlotte Tilbury launch) on models for a slightly softer effect.
Balenciaga's Cherry Red Wings
It's made its mark on dresses, shoes, tights, and handbags, now cherry red is set to be a major makeup trend next spring. Various shades of red lipstick have been popular all fashion month, but the bold winged liner at Balenciaga is possibly the edgiest way to embrace the color in your makeup looks.
Giambattista's Highlight Liner
Highlighter for your eyes? Let the makeup look from Giambattista Valli explain. Lead artist Karin Westerlund used MAC Cosmetics eyeshadow to illuminate and open up the eye area by swiping shimmery white shade along the lower lash line. Equally radiant skin took the overall glow to another dimension.
Courreges' Reverse Liner
Don't underestimate the impact of your lower lash line. At Courreges, lead makeup artist Diane Kendal created a simple flick using a liner from MAC Cosmetics. Using an angled brush, she drew the line, then slightly winged it out at the outer edge of the eye using her fingertip. The result is a cool, unexpected twist on a classic look.
Ann Demeulemeester's Lived-In Liner
The beauty of the lived-in liner look is that you don't need to be a cat-eye master to execute it. Roughly add some black liner on your upper lash line, then smudge it out with your brush or fingertip. Consider it the more subtle version of a full-on goth glam moment like the one from Nina Ricci.