Everything You Need To Know About The Buzzy Supplement Nutrafol
Here's what experts and reviewers have to say about the hair growth regimen.
@nutrafol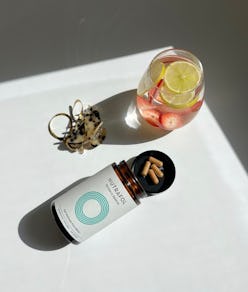 It seems like every single day there's an ad for a hot new supplement promising unbelievable hair growth. The prospect of fuller, more luscious locks can be tempting, especially when a product claims to provide results in just a few weeks. Not to mention, hair loss is on the rise thanks to our collective stress levels over the past few years. So, is it all just marketing, or does Nutrafol really work? Well, the reviews are in, and experts have a lot of thoughts.
To figure out what affects hair loss and hair growth, you have to start at the root cause (pun intended). "Hair thinning and loss is polygenic, meaning there are many genes involved that result in hair loss," Bridgette Hill, a trichologist and stylist with Paul Labrecque Salon and Skincare Spa, tells TZR. "Due to women's body systems and functions that are regulated by our hormones and endocrine system, there are a multitude of triggers that lead to hair shedding and hair loss."
Hill cites prescription medications, diet, vitamin deficiencies, stress, and even hair care products as potential causes of hormone imbalance, but adds that even experiencing "these triggers alone, without causing hormonal imbalances, can independently be direct causes of hair loss and thinning."
Given that, where does Nutrafol come in? For all you need to know about what exactly the supplement is, how it works, and what the Nutrafol reviewers are saying, read on.
What Is Nutrafol?
Recent research has identified one particular hormone that plays a part in hair loss: dihydrotestosterone, or DHT. "An enzyme called 5-alpha reductase converts testosterone into the harmful androgen DHT," Hill explains. "As more DHT is created in the body, the more testosterone will be converted into DHT, resulting in more hair loss." She notes that science hasn't identified why, exactly, DHT causes hair loss. "But we do know that DHT binds to healthy testosterone and negatively affects the cells that impact the hair follicle and the production of hair fiber."
What does this have to do with Nutrafol, you ask? Nutrafol's formula zeroes in on ingredients proven to target the negative effects of DHT, including saw palmetto and reishi. "Saw palmetto slows down 5-alpha reductase, which is the enzyme that converts testosterone into DHT," Hill explains. "It could reduce the effects of DHT as we age." Reishi essentially does the same, reducing 5-alpha reductase and, thus, DHT. Nutrafol's all-natural formula also features ashwagandha (which reduces cortisol and boosts circulation, two things that can support a healthy scalp, says Hill), vitamin E ("it gives hair an ideal strong base to support the hair fiber"), and horsetail (the herb "doesn't just promote the structural integrity of the hair, it improves its sheen and texture also").
Does Nutrafol Actually Work?
With trichologist-approved ingredients like that, it seems like Nutrafol would be a slam-dunk for scalp health — but it's not that simple. "As a certified trichologist, our supplement recommendations are based on clinical trials and peer-to-peer research," Hill says. "Nutrafol is a newer clinically trialed hair supplement in comparison to the other clinically trialed and clinically proven supplements." While Hill doesn't warn against Nutrafol, she personally uses Nourkrin and Viviscal because "both have a trademarked ingredient and are supported by historical performance, data, and clinical trials."
To be fair, Nutrafol has conducted randomized, double-blind, placebo-controlled clinical trials. And although the data may be on the newer side, it's pretty compelling: 80% of participants saw improved hair growth and improved hair thickness over six months of use, with 73% reporting improved growth rate.
There are, however, certain instances when the supplement won't be of much help. "Nutrafol can help create an environment optimal for hair growth or for functioning of the hair follicles," Dr. Joshua Zeichner, a board-certified dermatologist, tells TZR. "But not all types of hair will benefit. If the hair loss is attributed to infections or some underlying medical conditions, it won't work."
What Do Nutrafol Reviewers Say?
From a more personal standpoint, the Nutrafol reviews are in, and it seems as though the results track in real life. "Nutrafol actually works really well for my skin," Teona Ostrov, a beauty publicist who isn't affiliated with Nutrafol, tells TZR. "I have super thick and very long hair, so it's honestly hard to say if it has worked on my hair — but I do notice that my skin clears up when I actually stick to using it. I asked my dermatologist if I was just imagining if it was working, and she agreed that there are ingredients in there that are beneficial for your skin." (Vitamin E, for instance, has antioxidant effects and can help protect skin from free radical damage.) The possibility of healthier hair with a bonus of healthier skin? Sounds like a win-win.
Hairstyle and hair care influencer Audrey Victoria explained in a TikTok that she struggled with hair loss following childbirth, particularly along her hairline. As a usual fan of rice water to help healthy hair growth, she found it didn't help with her postpartum hair loss, so she turned to Nutrafol. Within three months she found that her hairline was already growing back and returning to the way it looked before pregnancy.
When YouTube creator Devin, known as Miss Devvbee, decided to finally take a holistic approach to the hair thinning she had been experiencing for years, she chopped her hair above her shoulders and began taking Nutrafol after consulting a dermatologist. Within a month and a half, she began to feel a difference, noting how fast her hair was growing. At the three month mark, she felt the change was drastic: Her hair felt stronger and her thinning spots were gone. Though the supplements can be a bit on the pricey side (a 30-day supply costs $88), re-nourishing her hair from the inside, as she says, was worth it.
Of course, even all-natural supplements may have unexpected side effects — upset stomach and dry mouth are two that Hill notes — so it's important to consult with your doctor before starting anything new. As the trichologist says, "Communicating with your medical professional is essential to combating your scalp and health conditions and sustaining your overall health and well-being."
All in all, the science behind the supplement's ingredients and its popularity so far indicate that Nutrafol is worth the hype when it comes to combating hair thinning. If you're interested in trying out Nutrafol, it is sold in one-time individual bottles or discounted monthly delivery subscriptions on its website, as well as at private providers across the country.
We at TZR only include products that have been independently selected by our editors. We may receive a portion of sales if you purchase a product through a link in this article.
This article was originally published on