This Is How To Find The Hair Extensions Best Suited For Your Hair Type
@glamseamless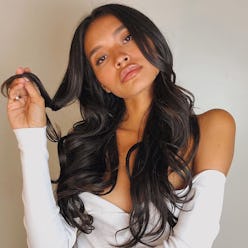 Thanks to supplements like biotin and Nutrafol, those looking to grow out their hair are able to boost the process a bit. Sadly, however, there's no magic pill you can take that'll give you longer locks overnight. That said, some of the best hair extensions on the market can deliver such instant gratification. Whether your strands grow slower than the grass on your front lawn or you're in the mood to channel a Kardashian for the day, extensions will help you achieve mermaid-like hair immediately.
First things first — you'll want to know what hair extension options are out there. According to Diana Wallace, Covet & Mane Educator and Extension Specialist, there are a few styles to choose from: Your temporary options include clip-ins and halos, semi-permanent consist of tape-ins and fusion-bonded, and lastly, the most permanent iterations on the market are sew-ins and I-tips.
But, before you make a quick purchase, Wallace recommends thinking about what your end goal is. The expert notes that lifestyle and daily routine are both big factors when picking extensions. For instance, consider questions like, "are you growing out a haircut, are you suffering from hair loss, do you just want some fullness or length?" In general, Wallace says clip-ins and halos are great for a night out or an event, while more permanent options like I-tips are great for daily wear.
Then there's the topic of hair type, which must be considered as well in the selection process, and can get a bit more complicated if you don't know a ton about extensions. In need of some help finding your ideal faux look? Below, find the best options on the market for your hair type and needs, according to the pros.
We only include products that have been independently selected by The Zoe Report's editorial team. However, we may receive a portion of sales if you purchase a product through a link in this article.
The Best Hair Extensions For Fine Hair
Malaika Frazier, a Los Angeles-based hairstylist, recommends U-part or halo half-wig pieces. A U-part is a wig that has a U-shaped hole in the front and clips that cling to your hair, which allows it to be incorporated naturally for a more seamless finish. A halo option is similar, but it doesn't attach to your hair like a U-part. Instead, it sits on your head like an elastic crown and stays in place with your natural hair resting on top of it. "[Both options] give great thickness and movement to thinner hair types," Frazier explains.
For those with thin hair who want a more permanent look, Takisha Sturdivant-Drew, a celebrity hairstylist who works with Kerry Washington, recommends wefted extensions to be sewn into braided hair. "The hair would be air-dried and medium-size braids would be done, and the weft would be sewn onto it," she tells TZR. "The hair won't fall or thin out anymore — it will actually grow because there is no tension on the hair." Her pick: TSD's Body Wave Hair. "It will add the right amount of texture without being overwhelming," she says. If properly maintained, these extensions can last up to a year (or more).
Jennifer Yepez, a celebrity hairstylist who works with Hailee Steinfeld and Bella Hadid, loves using Hidden Crown's Halo hair extensions on thin strands, mainly because they deliver the same thickness from root to end, which is important when choosing hair extensions. "All hair naturally tends to get thin at the bottom, but with these extensions, you won't have that," she tells TZR. Plus, Yepez says the extensions aren't heavy, so they won't weigh down thin or fragile hair. To apply this piece, set the front wire one to two inches from the hairline, and adjust it so the extension literally forms a halo around the top of your head, settling just under the crown. Then, using a comb, start pulling the top half of your natural hair over the extensions. Once all your hair is brushed out, style to blend the extensions naturally.
The Best Hair Extensions For Thick Hair
If you have thick hair, Sturdivant-Drew suggests trying out clip-ins. "That way you can place the clip-ins where you want to control the bulk of the hair," she says. She notes that most of the hair texture on the extension should match your hair so it blends naturally. To do this, the hairstylist recommends TSD's Hair's Kinky Curly extensions.
Alex Brown, a Chicago-based celebrity hairstylist, agrees that clip-ins are the best option for those with lots of hair. Her go-to product is Beauty Works Double Set Clip-In extensions. "The Double Set is double the amount of hair per track compared to other clip-ins [the brand] sells," she explains. "The double-track allows people with thick hair to not have to use as many tracks, and they blend so nicely with real hair." The hairstylist recommends sectioning the hair off with a jaw clip just above the ears — but not too high, or else the extension will show. "Using a comb, backcomb a small section of hair at the root where you will clip the extension, this gives added support," she explains. "I recommend bringing your clip-ins to your hairstylist for them to cut them and explain how to apply them."
Brown also loves Machine Weft extensions for thick hair. "When adding length to thick hair, applying a few wefts will give you much more hair to match your natural thick density," she explains. Customize these semi-permanent hair extensions from Bombshell by cutting them into smaller pieces to fit your head shape.
The Best Hair Extensions For Natural Hair
"I love that POC are starting to explore extensions that match the natural textures we tend to have," Frazier says. "Curly girls of all ethnicities are really rocking textured extension looks and killing it!" Because textured hair is tricky to blend, she suggests I-tips, microlinks, clip-ins, or sew-in extensions. "The key here is matching your texture as best as possible when choosing the extensions," she explains. (For reference, I-tips are hair extensions that clasp to the hair using micro-beads, and usually last about six to eight months. Frazier suggests seeking a professional to install your extensions.)
For natural hair, Sturdivant-Drew recommends Jheri Curl hair texture by TSD HAIR. "Brushed out, it is a beautiful, natural hair texture," she says. "TSD HAIR has great quality pieces that don't matte, shed, or tangle up. Plus its 100% human hair that's long-lasting." For this extension type, you have temporary options to choose from including clip-ins and a ponytail.
Frazier says those with natural hair can also use clip-ins, and if you have 4B-4C hair, consider trying Heat Free Hair's "For Kinks" Clip-Ins. Each set includes six clip-in pieces, but to achieve extra volume, the brand recommends purchasing two sets in your desired length.