These 5 Common Mistakes Are Ruining Your Brows — But You Can Fix Them
First, drop the tweezers.
CoffeeAndMilk/E+/Getty Images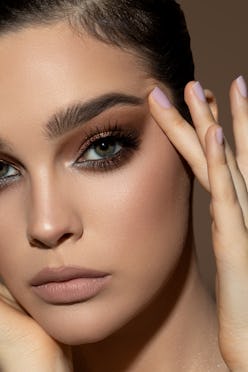 Eyebrows are notorious for being fickle. Regardless of how much you wax, tweeze, fill, or slick them down, finding symmetry between the two can be a pain. The trends over the years, such as the pencil-thin brows of the '90s or even the latest lamination treatments, have further added to the difficulty of this task. Yet, the quest for the perfect set of face-framing arches has led many people to fall victim to more than one common eyebrow mistake. Over-plucking, over-shading, and ultimately, overlooking the health of your brows are just a few of the top issues that are frequently repeated.
"So many of us fall down a deep, dark hole of satisfying hair removal, that when we finally step back, the damage is done and it's too late," says Autumn Reid, national brow and beauty authority at Benefit Cosmetics. Whether you're headed to the salon for an appointment or going about touch-ups yourself, taking the time to learn your brows can be key to avoiding any long-term issues. For this reason, TZR tapped three professionals, including two celebrity makeup artists, for their advice on avoiding and fixing the most common eyebrow mistakes. No matter the current state of your arches, you'll find these tips to be most helpful in maintaining their health.
How To Fix Over-Tweezed Brows
Over-plucking is easily one of the most notable brow mistakes, whether you've lived through the '90s or just happened to go overboard a few times. In fact, according to Reid, it's virtually unavoidable but there are a few steps you can take to help lessen the blow of their sparse appearance. Putting the tweezers away for a bit and giving your brows space to regrow is the best place to start. "Depending on how healthy your hair follicles are, it can take a full 12 to 16 weeks to see signs of regrowth. However, incorporating a topical product made with fortifying ingredients, like biotin and provitamin B5, into your nightly skin care routine can help boost hair growth and fullness," says Reid.
Once you're ready to start tweezing again, you should take precautions and aim to lightly groom your brows instead of defining them. "Start by removing only hairs that are completely outside of your brow — meaning they don't add to its shape and fullness," says celebrity makeup artist Melissa Murdick. By taking one hair at a time, she notes that you're able to see how the shape will be affected. Standing away from the mirror is also extremely helpful to avoid excessive tweezing. "Zooming out (instead of staying up close in a mirror) can help keep you from going too far," Murdick adds.
How To Avoid Over-Waxing Your Brows
While there are many at-home kits and applicators, the best way to prevent over-waxing your brows is to go the professional route. "Waxing is not the most DIY-friendly way to shape your brows and finding a solid technician will go a long way to keeping your arches healthy and full," says Murdick. Making time for a quick consultation appointment to discuss the desired look and realistic expectations is another easy way to ensure that too much hair isn't removed during the process. "Ask your technician, to use a beige or white pencil to outline the shape before they begin applying of the wax," says celebrity makeup artist Vincent Oquendo. This will give you an accurate assessment of what the final result will look like before you commit to removing the hair.
How To Fix Unsymmetrical Brows
Symmetry is a key element of facial features, especially when it comes to eyebrows. But years of waxing and tweezing can make creating two uniform shapes difficult. "Mapping is one of the best ways to bring symmetry back to your brows," says Murdick. A technique often employed by makeup artists and brow technicians, eyebrow mapping shows where your brow should begin, as well as where the arch should go, and where the tail of the brow should end. "Not only will this technique help identify the best shape that will bring balance and proportion to your face, but it will also allow you to determine the most natural silhouette," says Reid.
Using your brow pencil as a tool, anchor the tip (cap on) at the base of your nose and measure upwards to your forehead at a 90-degree angle. This, as Reid explains, is where your brow should begin. Next, tilt the pencil at a diagonal until it is directly aligned with the iris of your eye to determine the correct placement of the arch. "Lastly, shift the pencil to the edge of your lower lash line, as this is where the tail of your brow should end," says Reid.
How to Develop A Brow Lamination Aftercare Routine
Brow lamination is a popular treatment that uses chemicals to relax coarse brow hairs to give them a more fluffy appearance. But just like perms used to straighten naturally textured hair, you need to prioritize an aftercare routine for the health of both your brows and skin. "After getting the chemical treatment your newly laminated brows may need a little extra hydration in the form of a nourishing oil similar to leave-in conditioners for your hair," notes Reid. Look to nourishing ingredients such as essential oils rich in fatty acids, like omega-6, that will help condition, and moisturize your brow hairs. Reid recommends applying the product 24 hours after your lamination and continuing to add one to two drops onto clean, dry brows before bed.
Waxing can also be particularly taxing on your skin, especially if you're prone to sensitivity. "Redness is common after waxing for many people, but it can easily be tempered with a damp compress," says Reid. However, if you're in need of further cooling, she suggests applying a hydrating moisturizer, like Benefit's Porefessional Smooth Sip Moisturizer to the area to soothe it.
How To Choose The Right Brow Product
From shaping to defining, products are an integral part of creating a covetable brow look. With a sea of options, including powders, pomades, and pencils, finding one that works best for your desired look can be tricky. "The first thing to do here is to determine what your brows needs are," says Murdick. She continues noting that "if they need minimal filling, a brow powder or tinted gel alone can give you a natural look with little effort." For a more advanced look, she recommends investing in a fine-point brow pencil, like the Anastasia Beverly Hills Brow Wiz, or a brow pomade to create a variety of different looks.
Color can be just as hard to navigate when selecting a new brow product. Luckily, Oquendo has a good rule of thumb that's easy to employ. "Always go a shade lighter than your brows to help you stay in control of how dark the final look will appear and won't overpower your shape," he says. Additionally, he cautions against using a heavy hand with products that are overly waxy as they will deposit too much product and may be hard to brush out.