Your Quest For The Perfect Eyebrow Pencil Ends Here
@victoriabeckhambeauty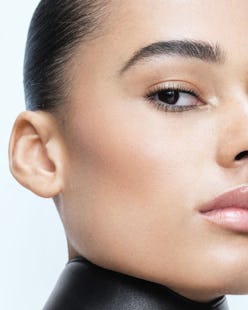 We may receive a portion of sales if you purchase a product through a link in this article.
Join TZR editors for Main Squeeze, the series dedicated to sharing beloved beauty products — be they bold, effective, or simply fun — that make our week just a little bit better. Ahead, Team TZR spotlights their favorite eyebrow pencils of the moment.
Brows are notorious for being finicky. Some mornings you may wake up with the perfect natural shape that needs nothing more than clear gel and a quick brush through. Other days may mean standing in front of a mirror for a good 20 minutes (or more) to smooth flyaway hairs and attempt to formulate a decent arch. The final result depends on a few different factors, genetics being one of them, but arming yourself with the right tools, like gel, spoolies, and most importantly, one of the best brow pencils, can help the job go smoothly. Unlike pomades and powders, pencils deliver precise strokes with familiar ease. They're also ideal for nearly every type of brow look.
For example, if you're a faithful waxer or opt for treatments like microblading, a fine-tipped micro-pencil can help maintain a structured appearance. Those who prefer a laminated fluffy brow or a lightly tweezed look may find a soft crayon-like pencil best for creating fluffy natural arches. Regardless of your go-to style, you can guarantee that there's a pencil to make your brows look impeccable — whether you're a novice or a skilled professional.
To help you weed through the many options, the TZR editors gathered the pencils they've come to rely on over the years for precise shapes and natural finishes.
"Anastasia Beverly Hills is the holy grail when it comes to brow products — they're high-quality and always reliable. I don't fill in my brows too dark, but I love this classic-style pencil for light shading where my hair is sparse. The double-ended brush provides the perfect two-in-one product, gently fluffing up my brows after filling them in."— Rebecca Iloulian, Director, Newsletter Revenue and Marketing
"I've tried every brow product under the sun, but I constantly go back to Benefit's cult-favorite, skinny-tipped pencil. It's the best for penciling in super-fine hair strokes that are as realistic-looking as they come. The formula is the perfect amount of waxy, without being too waxy, and shade 4.5 is a neutral deeper brown that's perfect for blondes and brunettes alike." — Faith Xue, executive beauty director, lifestyle
"I've tried many brow pencils over the years, but none quite measure up to MAC's Eye Brows Styler. After I fill in any sparse areas on my brows, I brush the hairs up a few times and boom — you can barely tell I have any product on my arches. My only complaint? There's not a ton of formula in the pencil, so it doesn't last as long as I'd like." — Kelsey Stewart, associate fashion editor, TZR
"I generally like my thick eyebrows, but their wiry texture and wayward growth pattern mean they always need some extra cleanup to avoid looking too Teen Wolf. The extremely fine, scalpel-like edge of Victoria Beckham's Babyblade pencil is ideal for carving out cleaner edges and keeping my brow tails looking neat and even — it's so great for drawing on a natural-looking outline. It's kind of like brow Spanx, carefully snatching everything to keep it all in." — Amanda Ross, beauty editor, TZR
"I'm a fairly loyal user of Kosas' Air Brow Gel on the daily, but I'll break out this pencil for special occasions when I need stronger and more precise definition."— Alison Syrett, deputy fashion editor, TZR
"I don't like my brows to look too filled in, as I prefer a natural, feathered look. This ultra-precise pencil from Hourglass is a fave as it delivers ultra-fine strokes that look like actual hair. I can literally have perfected brows in minutes — just a few swipes of clear brow gel and some light filling with this pencil and I'm good to go." — Angela Melero, executive editor
"I thought I'd tried it all when it came to brow pencils, but I was wrong. Sania's is a game changer. It's mistake-proof even with a shaky hand, which on days I'm in a rush, that's me. What's unique about this pencil is the light to medium color payoff and the perfect balance of wax - I can go over the same spot without it appearing too dark or the hairs clumping together."— Kathy Lee, editor-in-chief, TZR
"I've tried various brow pencils, but nothing holds up to the OG Anastasia Beverly Hills one. I use the shade Ebony and I like how sturdy/stiff the pencil is. I don't have to use a lot or apply too much pressure on the tip for the color to go on my brows – and the product doesn't run down my face when I jump into the pool. I've used this pencil for over a decade now, so as long as the brand doesn't discontinue it, I'll buy it until the end of time!" — Marina Liao, senior fashion news editor, TZR
"For years, I relied on micro-fine pencils to draw thin strokes and fill in my sparse areas. I hadn't used a classic pencil since high school, but this one from RMS made me revert back. The formula is super soft, glides on easily without getting messy, and doesn't melt off halfway through the day. I also appreciate how large the spoolie is to help fluff up my arches for a natural finish."— Jessica Fields, beauty writer, TZR
"I waxed my eyebrows throughout middle school and high school, and now they just don't grow. As a result, I fill in sparse patches and the thin tails with a brow pencil. This one from Victoria Beckham has quickly become my new favorite because it has an ultra-fine tip for precision work. Now I never overshoot when shaping my arches." — Erin Lukas, deputy beauty editor, TZR