45 Cheap, Under-The-Radar Beauty Products That Work As Well As Popular, Expensive Ones
Amazing results for less.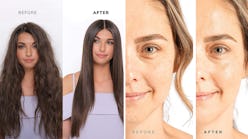 We may receive a portion of sales if you purchase a product through a link in this article.
You can easily drop hundreds of dollars on a handful of beauty products (heck, you can spend that much on one prestige serum alone). But it's certainly not a requirement, and it doesn't always mean that what you're investing in is better. For starters, there's no one-size-fits-all measurement when it comes to beauty, and furthermore, many of the more affordable brands on the market boast offerings with similar ingredients, shade ranges, and salon-quality scents as their luxury counterparts. Rather than play the guessing game on your own when it comes to effective, high-performing beauty products, the list ahead includes 45 tried-and-true favorites. From skin care staples to a $50 straightening brush, these are the under-the-radar beauty products that are on par with prestige brands (but won't break the bank).
This article was originally published on