This Buzzy New Ingredient Is Perfect For Acne-Prone Skin
Naturopathica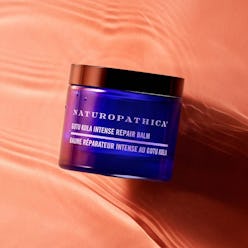 Years ago, an Ayurvedic nutritionist suggested I stir gotu kola powder into my morning smoothie as a natural way to boost my mood — and because trying alternative remedies for stress, skincare, and anything in between is kind of a hobby of mine, I enthusiastically obliged. Gotu kola has been a staple in my wellness routine ever since, but it was only recently that I realized it's also been a part of my beauty routine, thanks to my beloved tiger grass skincare products. While chatting with Barbara Close, an herbalist and the founder of Naturopathica, about her brand's new Gotu Kola Intense Repair Balm, she let me know that "gotu kola" is simply the ancient Indian name for centella asiatica — AKA tiger grass, AKA cica, AKA the ingredient that's known to soothe sensitive skin on contact. Mind = blown.
Even if "gotu kola" still sounds relatively foreign to your beauty-loving brain, you're probably familiar with its core benefits already. The ingredient rose to fame in late 2017 when K-beauty brand Dr. Jart and drugstore giant L'Oreal both popularized "cica"-centric products (Cicapair and Cicacream, respectively), intended to calm irritation and stimulate the skin's wound-healing response. "The multitasking herb is widely respected by herbalists for its reparative and soothing properties," Close tells TZR. "The plant is native to Asia's wetlands, and legend has it that tigers would roll around in these nutrient-rich leaves to heal their battle wounds — which is why it's referred to there as 'tiger grass.'"
The rewards of gotu kola are indeed legendary. "Tiger grass is very rich in chlorophyll, with additional nutrients like zinc, selenium, copper, amino acids, and beta-carotene," Dr. Devika Icecreamwala, a board-certified dermatologist, tells TZR. "It provides a soothing effect to the skin and can also help promote skin cell growth, making your skin look strong and more fit." Close says that the ingredient has powerful anti-inflammatory properties and is a known antioxidant, as well. "Clinical studies show that it can aid in skin healing by stimulating collagen production," she adds. That same scientific study refers to gotu kola as "a potential herbal cure-all," which, yes please.
"Those that struggle with acne, rosacea, or sensitive skin can really benefit from incorporating this into their routine," Dr. Icecreamwala shares. There aren't any downsides to trying it out, either, as it's super-soothing and unlikely to cause any adverse reactions.
And if you like to eat your skincare like I do, gotu kola makes a wonderful dietary supplement. "Internally, gotu kola is an adaptogen herb that helps the skin and body 'adapt' to environmental stress, and better equip you to deal with physical, emotional, and mental stress," the herbalist explains. Ingestible gotu kola can be found in Naturopathica's Burdock Healthy Skin Tincture (because there's nothing like a one-stop shop for inner and outer wellness, right?). If you prefer a powder formula to stir into your latte, though, try Banyan Botanicals pure Gotu Kola Powder (my personal go-to).
Ahead, 12 ways to self-soothe with gotu kola/cica/tiger grass/whatever you want to call it.
Shop Gotu Kola Skincare