Braided Ponytails Get An Elevated Upgrade At Paris Fashion Week
Grown-up pigtails and all.
WWD/Getty Images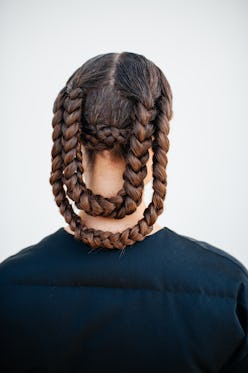 As Fashion Month's closing city, Paris always delivers loads of sartorial and beauty inspiration. The runways have served up some cool trends — hello, "witch lips" at Dior — but the real action is happening outside the venues. While darting between shows, attendees are providing just as many covetable beauty moments as the models themselves. All week long, street style stars have been showcasing striking beauty looks including luminous skin, of-the-moment hair colors, and classic French bobs. However, of the many trends spotted in Paris, braided ponytails of all sorts were among the most notable. Easy to do and wear, this new take offers a refreshing approach to the beloved look.
Traditionally, Parisienne hairstyles are known to be effortless, unfussy, and low maintenance. A quick tousle here or a loose braid there, all used to create the most natural look possible, is usually the name of the game. But Fashion Week is different, and this season's guests are embracing interesting ponytails with vigor and style. Instead of boring and meek, the looks leaned into detailed braid patterns, textile accessories, and coordinating jewelry to up the ante on the elementary hairstyle.
Ahead, TZR's compilation of the best braided ponytail looks seen on PFW attendees. As one of the most popular hairstyles, these intriguing options lend a fresh crop of inspiration for every hair type and style preference.
High Braided Pony
High-positioned ponytails have multiple benefits. For starters, they instantly snatch your face thanks to the hair being pulled upwards — but they also set the tone for a commanding braided look, as demonstrated on this guest outside of Dior.
The "Unibraid"
More than just a unique hairstyle, this "unibraid" offers a stylish and grown-up way to wear pigtails. If that's not enough to get you on board, it's also incredibly easy to DIY. Just be sure to invest in some smoothing hair products to keep it looking sleek and frizz-free.
Color Coordinated
A long side-ponytail slung low over the shoulder has a sophisticated and alluring feel. Essentially a blank canvas, it's the perfect hairstyle to zhuzh up with extras. If your look is in need of a refresh, take a cue from this guest's approach and opt for coordinating braid and earring moment.
Space Age Hair Accessories
Just how do you stand out in a sea of stylish cohorts? How about taking your simple ponytail to the next level like this attendee did? Their copper-colored fishtail is seemingly uncomplicated, but receives a boost of drama from the hair wrapped halo that tops it.
Ribbons & Hair Bows
Hair ribbons have been a particularly strong force throughout this Fashion Month. That said, this guest's look comes with little surprise. Featuring individual braids of different sizes and accessorized with bows fashioned from black and white ribbons, it makes a nice counterpart to her polka-dotted puffer.
Double Dutch Braids
If the single "unibraid" look above caught your eye, you'll want to pay close attention to this entrancing version. In it, two sets of interlocking braids create a layered effect that frames an intricate row of hair plaited close to the scalp. Despite the detailed work, this style still feels clean and easy to wear.
Ladylike
Perhaps the easiest way to upgrade your look is to wrap strands around the base of your ponytail to mimic the appearance of a scrunchie. Then finish with a slight flip on the ends for a modern, ladylike vibe.
Blunt-Cut Bangs
Sharp bangs give this jet-black Wednesday Addam's pigtails an even edgier feel. But it's the blunt-cut hair along the sides of the face that really makes this style standout.
Pearl Raindrops
Interlacing your braids with beads and hair jewels isn't a new trend. However, when done with glistening round pearls, the style feels artfully decorated and fresh. Think of it as tiny droplets of water shining in the sunlight.
Simple & Chic
The power of simplicity always reigns supreme in Paris. This guest's braided ponytail may be straightforward, but it's a perfect understated style the classic look requires. Paired with oversized black sunglasses, gold earrings, stacks of pearls, and a loose-fitting trench coat, the look exudes French-girl chic.