The 10-Minute Body-Care Routine I Rely On For Scar-Free & Even-Toned Skin
@_natashamarsh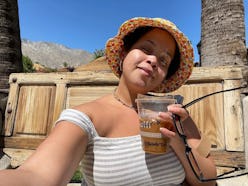 We may receive a portion of sales if you purchase a product through a link in this article.
My summer and fall of 2022 were filled with more tropical destinations than I could ever imagine. The beach time, outdoor hikes, water sports, and zip-lining was incredible. But what's not so incredible is the long-lasting hyperpigmentation (read: sun spots) and pesky scarring I am still dealing with from the excessive hours spent in the sun and the nightly mosquitoes that pierced my skin. Because of the pesky marks on my skin from the neck down, I expanded my body care routine to treat my hyperpigmentation and scars.
Blame it on my lack of adequate sunscreen application or the plethora of bugs in tropical climates, my skin has definitely looked better. Not to mention, I'm finding the older I get, my melanin skin holds on to bumps, bruises, scrapes, sunspots, and inflammation — occasionally taking over a year to disappear. So I started using body products similar to my favorite facial ones: body serums, hydrating moisturizers, nourishing oils, rolling tools, and sheet masks. Like their facial counterparts, these highly-concentrated formulas target firmness, brightness, exfoliation, and moisturization to completely rejuvenate the skin.
Ahead, peruse my trusted arsenal of body care products that have restored my skin to its hydrated, even-toned, and scar-free appearance. Keep in mind: the sooner you start a body care routine, the greater chance you have at fading any dark spots and lesions. And lastly, like most routines, consistency and patience (it takes at least 30 days to see results) is key..