The Truth About Trending Skin-Tightening Products, According To Dermatologists
Hint: they aren't mandatory.
@maelys_cosmetics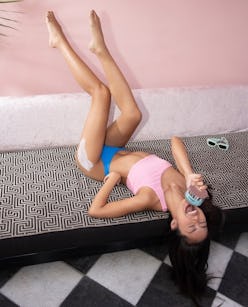 We may receive a portion of sales if you purchase a product through a link in this article.
Regardless if you have a three- or 12-step approach to your facial skin care routine, are you keeping that same energy for the skin below your neck? The remainder of the body experiences wrinkles, fine lines, sagging, and lack of tautness, too. Although aging is inevitable and a privilege, there are a number of in-office treatments that can combat some of the physical side effects. However, if the cost of treatments and potential downtime is not appealing, you can try the more affordable route and invest in skin-tightening products.
These skin-firming creams and lotions promise to diminish cellulite, tone thighs, firm up your butt, and so much more through daily application. Some even offer the same ingredient-focused formulas as their buzzy facial product counterparts. But how effective can they be?
Like the facial skin, the skin on the body needs specific ingredients to help support rebuilding collagen to keep skin from sagging, wrinkling, and drooping. "Collagen is an essential protein in the skin that gives the skin structure and support," says Carmen Castilla, M.D., New York City-based, board-certified dermatologist and clinical instructor at Mount Sinai. "Elastin is what helps maintain your skin's flexibility and ability to stretch and bounce back. The break down of collagen and elastin over time is what leads to fine lines and sagging."
To get more clarity on the efficaciousness and benefits of skin-tightening products, TZR chatted with top dermatologists in the field. Ahead, get the 411 on the most popular ingredients and how to use them in your body care routine.
What Are Skin-Tightening Products?
Skin-tightening and firming products aim to encourage the body to boost collagen production to help replenish what's lost as the body ages. "As we age, we lose one percent of collagen and elastin each year," says Karan Lal DO MS FAAD, double board-certified adult and pediatric dermatologist and fellowship trained cosmetic dermatologist. "These topicals help restore your skin's ability to produce good collagen and hydrate the skin."
And Audrey Kunin M.D., celebrity dermatologist agrees: "Skin-firming topicals help support dermal fibroblasts [skin cells in the connective tissue] to produce collagen," the pro tells TZR. "Because collagen decreases with age, and is responsible for suppleness, tightening, and volume of skin, adding in ingredients and products that promote production can help bring back youthful skin."
Along with boosting collagen, these formulas prevent signs of aging caused by external factors, too. "With the help of collagen, amino acids, antioxidants, and vitamins, skin-firming creams not only promote collagen production but also protect against environmental and aging aggressors that could lead to loose skin," Dr. Lal says.
Do Skin-Tightening Products Actually Work?
While these products aim to promote collagen production and snap skin back into place, Dr. Castilla notes it's important to remember they are not miracle creams, nor can they compete with in-office laser and radio frequency treatments (EmSculpt, liposuction, Sculptra, or truSculpt) that deliver energy under the skin's surface to dissolve fat and tighten skin. Instead, they're an affordable option for modest cosmetic improvements. "To get more visible and immediate results, I recommend ablative lasers that remove the dermis — where collagen, elastin, and glycosaminoglycans reside," says Sandy Skotnicki, M.D. a board-certified dermatologist and advisor to Hims & Hers. "Removal forces them to regrow new and firm. The more ablative the laser, the better the results."
For those that prefer a non-invasive option, skin-tightening creams can help plump the top layer of the skin to make the skin temporarily look smoother and tighter. In other words, they firm the appearance of the skin so it looks tauter. When used in conjunction with in-office treatments, Dr. Kunin says you might see results a lot quicker as the temporary benefits will be seen first. When used alone, there are specific ingredients to look for (more on this ahead), and the products need to be used consistently to reap the benefits.
Key Ingredients To Look For In Skin-Tightening Creams
For as many good products out there, there are just as many that over promise on their benefits and results. To help cut through the noise, the experts want you to look out for four main ingredients when shopping for your next firming cream.
Retinol
The gold standard for strengthening the foundation of the skin, retinol stimulates the skin cells to encourage collagen production. Retinol works to thicken the skin and prevent it from getting thinner. Dr. Castilla recommends retinols and retinoids to be used two to three times a week for at least 12 weeks to see any significant improvement.
Peptides
Peptides can help promote collagen and elastic production to thicken skin and improve its bounce. Dr. Sherwin Parikh, board-certified dermatologist, co-founder of A.P. CHEM, and founder of Tribeca Skin Center, recommends Polyglutamic Acid (PGA), firming and tightening peptide that holds up to 10 times more moisture than hyaluronic acid and boosts elasticity. Not to mention, it also forms a protective barrier to prevent moisture loss, which leads to benefits like softer skin, a more even texture and tone, and less irritation.
Antioxidants
According to Dr. Castilla, antioxidants, buzzy ingredients like vitamin C (in 10 to 15% concentrations), help to neutralize free radicals that would break down collagen over time, and decrease inflammation that could lead to puffiness.
Caffeine
By dehydrating the fat, caffeine can help break down and minimize the appearance of cellulite. You can find caffeine in body creams or scrub and the experts recommend to use the creams every day and the scrubs sparingly to avoid over exfoliation.
Sunscreen
Although not an ingredient, Dr. Castilla claims sunscreen is the most scientific support for skin's firmness. "The sun's UV rays over time degrade collagen, leading to fine lines and sagging," the dermatologist tells TZR. With daily use of sunscreen, you will not only protect your skin of sun damage but also slow down the lack of tautness. "Using sunscreen daily, rain or shine, your skin will age slower overall," the expert continues. "If you start early and are consistent, your perceived age will be significantly lower over time."
Are Skin-Tightening Products Worth Adding To Your Body Care Routine?
While you could see cosmetic benefits with continued use, it's important to manage your expectations before starting a skin-tightening body care routine. Topical creams purchased at drugstores or specialty skin stores cannot instantly tone or tighten the skin. "Topical treatments are maintenance and preventative," says Dr. Skotnicki. They do however provide nourishing ingredients that can help improve the appearance of fine lines and wrinkles, elasticity, crepiness, and firmness. The bottom line? Dramatic before-and-after transformations should not be expected when slathering on these products.