Skin Tints Are The Linen Dresses Of Summer Makeup
Ditch the sweaty full-coverage foundation.
@summerfridays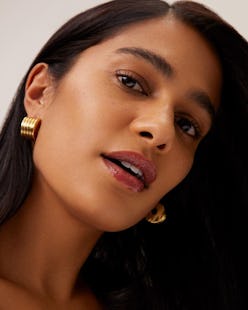 We may receive a portion of sales if you purchase a product through a link in this article.
As heat waves continue to break records this summer, wearing makeup seems futile. Carving out time in the morning to apply foundation, concealer, blush, and the works is essentially a waste of time (and makeup) when all of it is going to melt, smudge, or oxidize by the time you make it to your destination. However, it's completely understandable why you want to still try to do a makeup look in high summer. Maybe you're dealing with a bad hormonal breakout and want to conceal the zits living rent-free on your chin. Or maybe the act of applying makeup helps ground you for the day ahead. Whatever reason, swapping your current foundation for one of the best skin tints on the market will help minimize this common summer makeup struggle.
These lightweight formulas typically rival your favorite moisturizer or serum, packed with the active ingredients to soften, plump, and illuminate the skin. Paired with light, often buildable coverage, skin tints truly deliver a your-skin-but-better look that wears well throughout the day because they keep your complexion hydrated. Even better: They are next to effortless to apply. Simply add a few drops to the back of your hand, then dab it on your face and massage it in with your fingertips for a seamless finish.
Sold on ditching your full-coverage foundation for the rest of the summer? Ahead, TZR has rounded up the best skin tints for natural, heat-friendly makeup looks.