Found: 10 Toners That Won't Strip Your Skin Bone Dry
All radiance, no irritation.
Delmaine Donson/E+/Getty Images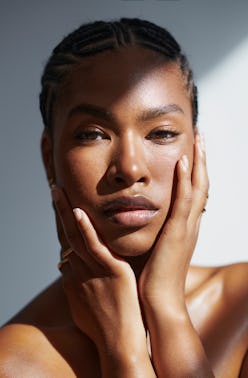 We may receive a portion of sales if you purchase a product through a link in this article.
Site: It's Time To Upgrade Your Toner — These 10 Are A Good Place To Start
10 New Toners To Try That Won't Strip Your Skin Bone Dry
Join TZR editors for Main Squeeze, the series dedicated to sharing beloved beauty products — be they bold, effective, or simply fun — that make our week just a little bit better. Ahead, Team TZR spotlights their favorite toners of the moment.
Skin streaming may be the latest buzzy industry term, but a pared-down regimen is actually the foundation of skin care. At the core of any routine, you'll find three main elements, cleansing, toning, and moisturizing, that are crucial to maintaining a healthy and youthful appearance. While finding a face wash that you love can be challenging, selecting the right astringent has proven to be the most difficult. Thankfully, the category has come a long way over the years, and today, the best face toners work with your skin instead of stripping bone dry.
As one of the main steps in your morning and evening routine, toner can be an effective tool for fighting signs of aging, acne, and even hyperpigmentation. The key is finding a product that incorporates a powerful blend of ingredients designed to target your specific concerns. As your skin changes with age or the environment around you, its needs also shift. However, swapping out your go-to toner is a lot easier said than done — especially with the threat of dry winter skin on the horizon. Luckily, the TZR team has some suggestions to help guide you in the right direction.
Keep scrolling to find your new favorite toner. Whether you're out of your standby or in need of a completely different formula, you're sure to love one of the options below.
"Half toner, half essence, this golden-hued elixir has become a mainstay in my skin care routine (I've gone through multiple bottles). It's made with a slew of botanicals to soothe and brighten, as well as glycerin to hydrate. I love the light, herbaceous scent, and that it leaves my skin looking brighter, smoother, and softer."— Faith Xue, executive beauty director, lifestyle
"As someone who came of age in the early 2000s, I spent years hooked on the kind of harsh 'it works cause it hurts' toner that tingled for like 15 minutes after you used it. Fortunately, I've changed my ways. This gentle Tammy Fender tonic offers a similarly satisfying tingle, rather than strip my skin, it leaves it feeling dewy and soft."— Alison Syrett, deputy fashion editor, TZR
"I look to natural ingredients in toners that will soothe and hydrate my skin without making me look too shiny after. This botanical blend is packed with flower essences like jasmine and rose, and plants like cucumber and aloe that feel refreshing on the skin. It's also extremely gentle and is great for calming inflammation, which is concern for me when my eczema flairs up." — Jessica Fields, beauty writer, TZR
"Finding the right toner for your skin is a tricky endeavor — one that cleanses away your dead skin cells without stripping away moisture. I've been using this SK-II one for years now, on and off, as I test other brands in between, but always find that this one doesn't leave my skin dry but rather a bit bouncy after each use. My complexion looks refreshed and feels baby-smooth." — Kathy Lee, editor-in-chief, TZR
"In lieu of an exfoliating toner, I love to add this soothing, hydrating formula from Keys Soulcare to my cold-weather skin care routine. Infused with calming aloe and bamboo, it's like a cozy blanket for my complexion." — Erin Lukas, deputy beauty editor, TZR
"I trust anything Charlotte Cho tells me to use, so when she came out with her own line of products, I was 100% on board with it. My favorite item from her brand is this toner, which contains buzzy ingredients like birch juice, squalane, glycolic and lactic acid. While I don't pretend that I fully know what each one does, I do know that the toner always leaves my skin looking bright and clear. I like to use it when I feel like my skin has been through rough times (from drinking or the cold weather) for an instant reset and refresh."— Marina Liao, senior fashion news editor, TZR
"I'm thoroughly obsessed with this toner. It makes my freshly cleansed skin feel fresh and extra clear, without making it feel tight or dry. I've noticed a difference in tone and texture since using it and my skin has a nice natural sheen to it these days that only comes from a clean, healthy complexion." — Angela Melero, executive editor
"Honestly, I rarely use toner (I just forget half the time!). But when I do reach for it, I grab my Thayers Witch Hazel Facial Toner. It's affordable, effective, and doesn't irritate my sensitive skin — what more could I ask for?"— Kelsey Stewart, associate fashion editor, TZR
"I rely on acids to keep my combination clear and free of breakouts, and this one from e.l.f. features the perfect amount of glycolic acid to smooth and brighten. I love that I can use it every day without irritation, and the witch hazel keeps my skin looking clear. Plus, it's such a steal."— Xue
"I'm pretty obsessed with the combination of rosewater and witch hazel and while I have tried a few other toners, I always come back to this one. It's like a fresh dose of hydration that leaves my skin feeling moisturized and clean once it's dry. Needless to say, I always keep a bottle on deck." — Fields