The Best Cleansers To Use With Tretinoin & Retinol, According To Dermatologists
Hint: they're all super gentle yet effective.
Amazon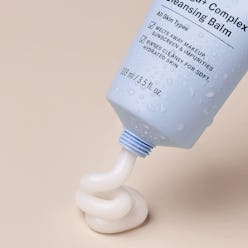 We may receive a portion of sales if you purchase a product through a link in this article.
Retinol — it's one of dermatologists' favorite skin care ingredients for its versatility and effectiveness. Retinol is a superstar does-it-all ingredient, as it helps promote skin cell turnover, increase collagen production, treat acne, and fade hyperpigmentation. But it can also be one of the most irritating ingredients out there, especially for those with dry or sensitive skin. It's important to start slow with retinol, and make sure you're following up with a heavy-duty moisturizer, but choosing the best cleansers to use with retinol (and tretinoin) is just as essential to maintaining your skin's health. While we'll dive in deeper in a minute, the general consensus among dermatologists is that you'll want to use a gentle cleanser that removes impurities without stripping your skin. To find out more, and to hear exactly what the dermatologists The Zoe Report interviewed have to say, keep reading.
The Experts
Dr. Azadeh Shirazi, M.D. is a board-certified dermatologist who specializes in medical, surgical, and cosmetic dermatology. She's the specialist at La Jolla Dermatology and has her own skin care line, azimdskincare.com.
Dr. Brendan Camp, M.D., F.A.A.D., is a board-certified dermatologist with MDCS Dermatology in Manhattan, whose specialties include acne, eczema, and skin cancer.
What Are Retinoids?
All vitamin A derivatives fall under the blanket term "retinoid." The hierarchy of retinoids includes stronger forms like tretinoin, and gentler versions like retinol. In general, the stronger your retinoid, the more mindful you should be of incorporating soothing, hydrating ingredients into the rest of your skin care routine to combat retinoid-induced irritation and dryness.
What To Look For In A Retinoid-Friendly Cleanser
When choosing a cleanser to use alongside your retinoid of choice, whether that's tretinoin or an over-the-counter retinol serum, both Dr. Shirazi and Dr. Camp recommend looking for hydrating ingredients that support the skin barrier, such as ceramides and glycerin, as well as soothing and calming ingredients like niacinamide. "You want to choose a gentle cleanser that removes dirt, sunscreen, makeup, yet doesn't over strip the skin," Dr. Shirazi tells The Zoe Report. She also recommends avoiding cleansers with strong actives or exfoliators — like benzoyl peroxide, AHAs, and BHAs — when you're using a retinoid, especially when you're just starting out.
Dr. Camp notes that you don't necessarily have to cleanse your skin twice a day, every day, especially if you're experiencing dryness from a retinoid. "Consider using water alone in the morning," he tells The Zoe Report, "and use a face cleanser in the evening."
To make sure your gentle cleanser is still effectively removing makeup, sunscreen, and other impurities, Dr. Shirazi recommends applying it to dry skin first, then adding water to rinse off. "It doesn't dilute the cleanser and it works better to get sunscreen and makeup off," she says. But make sure to pat your face dry before applying your retinoid — "applying retinoids to damp skin will enhance penetration, making it more likely to irritate the skin," Dr. Shirazi explains.
Shop The Best Cleansers To Use With Tretinoin & Retinol
In a hurry? Here are the best cleansers to use with tretinoin & retinol:
1. Expert's Pick: Best Creamy Hydrating Cleanser
What We Like:
Creamy, hydrating formula that leaves skin soft
Derm and beauty editor recommended
Made by a trusted French pharmacy brand
What We Don't Like:
May not remove waterproof makeup on its own
Dr. Camp recommends La Roche-Posay's Hydrating Gentle Cleanser for its skin-loving ingredients like ceramides and glycerin (it also comes recommended by TZR beauty editor Adeline Duff, who uses this alongside her twice-weekly tretinoin application). Designed for dry and sensitive skin types, the cleanser has a thick, creamy texture that doesn't foam up, but rather glides over the skin. It's made with La Roche-Posay's signature prebiotic thermal water that's rich in selenium, an antioxidant that helps protect skin cells from damage. The cleanser also has glycerin for hydration, niacinamide to soothe and brighten, and ceramide-3, which is a skin-identical lipid that helps you maintain a healthy skin barrier. The fragrance-free product is gentle and hydrating enough to be used twice a day, and leaves your skin rinsed clean without leaving behind any sort of residue.
Key Ingredients: Ceramide-3, Glycerin, Niacinamide | Size: 13.5 oz. | Fragrance-Free: Yes
Relevant Review: "I have used this face wash consistently for over a year now and I will never use anything else. It's great for dry, acne prone skin such as mine and is also great if you're using retinol that's causing you dry patches."
2. Expert's Pick: Best No-Frills Cleanser Under $15
What We Like:
Budget-friendly
Comes in a 16-ounce bottle, making it a great value
What We Don't Like:
May not remove waterproof makeup on its own
Cetaphil's beloved Daily Facial Cleanser is formulated for oily to combo skin types and clinically tested to deep clean the skin without leaving it feeling stripped. It's free of fragrance and sulfates to be as non-irritating as possible, and is loved by dermatologists for its straightforward ingredient list and soothing properties. The cleanser contains glycerin for hydration and niacinamide to brighten — also known as vitamin B3, niacinamide is great for its anti-inflammatory and hyperpigmentation-reducing properties. "It's an affordable option great for even the most sensitive skin types," says Dr. Shirazi. Note that this cleanser might not be strong enough when you want to remove heavy makeup and SPF, in which case you'll probably need to pair it with an oil cleanser or micellar water first first.
Key Ingredients: Glycerin, Niacinamide | Size: 16 oz. | Fragrance-Free: Yes
Relevant Review: "I love this non stripping face cleanser. Perfect for Retin A users."
3. Expert's Pick: Best Gel Cleanser For Oily Skin
What We Like:
Leaves skin feeling refreshingly clean
pH-balanced to help support a healthy skin barrier
What We Don't Like:
Drunk Elephant's Beste No. 9 Jelly Cleanser is a gently lathering gel cleanser designed to remove oil and all traces of makeup. Unlike most gel cleansers, this one is ultra-gentle on the skin, leaving even sensitive skin hydrated, balanced, calm, and grime-free. Its blend of super mild, coconut-based surfactants are rich in fatty acids to help dissolve makeup and oil. The cleanser also uses glycerin to replenish skin's hydration, along with virgin marula oil, a lightweight oil rich in omegas and fatty acids to nourish skin and assist with makeup and SPF removal. "[It's] a great option for oily skin types looking for a lightweight cleanser," Dr. Shirazi tells The Zoe Report. Drunk Elephant makes sure everything is free of what they call the "suspicious six" ingredients: SLS, silicones, fragrance, essential oils, alcohols, and chemical sunscreens.
Key Ingredients: Glycerin, Aloe, Marula Oil | Size: 5 oz. | Fragrance-Free: Yes
Relevant Review: "I had hormonal acne for years in high school and college, and this face wash paired with a strong tretinoin topical medication worked wonders for my acne and scarring! It's SUPER gentle, scentless (which is a good thing!), and lasts me a LONG time. I buy these twice a year maybe, and a whole bottle can last me around 6 months if I use it mindfully."
4. Best Cleansing Balm For Removing Makeup
What We Like:
Effective at breaking down waterproof makeup
Leaves skin nourished and soft
What We Don't Like:
The Omega+ Complex Cleansing Balm by Paula's Choice gently removes makeup, oil, sunscreen, and grime with its pillowy-soft balm texture. The cleanser can be used as the first step in a nightly double cleansing routine, but it also rinses clean on its own, leaving skin hydrated and nourished. Designed for dry and sensitive skin types, the balm cleanses skin with a formula rich in omegas derived from jojoba oil and meadowfoam seed oil. These omega fatty acids, along with dissolving makeup and oil, also help restore the skin barrier, soothe irritated skin, and improve skin's moisture and elasticity. Pro tip: To remove heavy eye makeup, leave the Omega Complex Cleansing Balm on for about 60 seconds before rinsing.
Key Ingredients: Meadowfoam Seed Oil, Jojoba Seed Oil, Rapeseed Oil | Size: 3.5 oz. | Fragrance-Free: Yes
Relevant Review: "Glides on to skin and feels luxurious. I look forward to washing my makeup off instead of seeing it as a chore now. When I use my toner, there's not trace of makeup on my cotton pad. Even effective on tough eye makeup. My skin feels soft and hydrated after."
5. Best Micellar Water For Removing Makeup
What We Like:
Removes all makeup (including waterproof) with ease
Super gentle and non-irritating
Doesn't leave behind any trace of residue
Trusted and used by beauty experts around the world
What We Don't Like:
Should really be followed up with a rinse-off cleanser
With over 35,000 five-star Amazon ratings and a devoted following among makeup artists and beauty experts, it's no wonder Bioderma's Sensibio Micellar Water remains a cult classic for removing makeup without stripping or drying out the skin. Use it to erase every last trace of makeup at night (it even works on waterproof formulas), or in the morning to gently wipe your skin clean. Rather than cleansing with soap or other harsh cleansing agents, micellar water uses micelles that act like magnets to attract oil, makeup, and dirt, effectively cleansing skin without any rough rubbing or irritating ingredients — and they're made of fatty acids which make them super soothing. Bioderma's Micellar Water also contains cucumber extract to soothe and hydrate irritated skin.
Key Ingredients: Fatty Acid Micelles, Cucumber Extract | Size: 8.33 oz. | Fragrance-Free: Yes
Relevant Review: "This is the best product! Great for sensitive skin. I'm also a retinol user and [it] helps keep skin calm. Takes all makeup off as well."
6. Best Foaming Cleanser For A Rich Lather
What We Like:
Leaves skin feeling refreshingly clean
Made by a derm-trusted brand
Comes in smaller bottles for travel
What We Don't Like:
If you prefer a traditional foaming cleanser, this one, from derm-favorite brand EltaMD, gives your skin a satisfying, cleansing lather without leaving your skin stripped or irritated. It used bromelain enzymes, found in pineapples, which help reduce inflammation and gently exfoliate. The product works into a rich, shaving cream-like lather, and has a fresh cucumber scent. It has 7,000 five-star ratings on Amazon, and reviewers note that it's great after a chemical peel or in combination with retinoids because of its rich yet gentle texture that's designed for sensitive skin. If you're wearing heavy makeup or SPF, you might want to rinse and repeat with this cleanser to make sure everything is squeaky clean.
Key Ingredients: Bromelain, Amino Acids | Size: 7 oz. | Fragrance-Free: No
Relevant Review: "I take Differin prescription strength and it drys out the skin quite a bit so I need a gentle yet effective cleanser. This product does the trick for me. The skin feels very soft and fresh afterwards and the product takes away rests of makeup and dirt from the day. Other gentle cleansers don't clean enough for my purposes."
7. Best Oil-To-Milk Cleanser
What We Like:
Unique, oil-to-milk texture
Enriched with prebiotics to support healthy skin
Leaves skin soft, not stripped
Comes in a travel-friendly 3-ounce bottle
What We Don't Like:
Some users may prefer to follow up with a second, water-based cleanser
Considering its small bottle, $18 seems slightly pricey
Falling somewhere between a cleansing balm and a cleansing milk, this Cocokind face wash will break down makeup and sunscreen without leaving your skin dry or stripped. It's made with several nourishing, botanically derived oils (including sunflower seed, grape seed, baobab seed, and chamomile), while vitamin E bolsters its moisturizing benefits. Another unique feature is that it features prebiotics, which play a key role in supporting a healthy skin barrier and strong, balanced skin (which is crucial if you're using a product like tretinoin). Even more important is what this cleanser is made without: fragrance, sulfates, and other potential irritants, making it a nice and gentle choice for retinoid users who may be prone to irritation.
Key Ingredients: Sunflower Seed Oil, Vitamin E, Lactobacillus Ferment | Size: 2.9 oz. | Fragrance-Free: Yes
Relevant Review: "The gel/cream consistency makes for a soft and milky cleanser. It's great for sensitive skin. The scent is light and pleasant. I have not had any reaction to the formula and I believe it has made my skin look better overall."
8. Best Middle-Ground Cleanser
What We Like:
Leaves skin feeling refreshingly clean
Lathers without stripping
Comes in a small, travel-size bottle
What We Don't Like:
Pricey
Fragranced, which may be a downside if your skin is sensitive to scents
Though on the pricey side, this It Cosmetics cleanser checks off so many boxes, and it's a nice middle-ground cleanser if you're not totally sure about whether you want a cream, gel, or oil cleanser. It feels kind of like a hydrating soap, but the gently lathering formula is, in fact, soap-free. In accordance with the derms' advice, this cleanser contains glycerin and those essential skin-strengthening ceramides, while hyaluronic acid offers up even more hydration. It's also free of sulfates, alcohol, and other drying/stripping ingredients, and leaves skin feeling squeaky clean but not dry or stripped. An all-around solid option for retinoid users of all skin types.
Key Ingredients: Ceramides, Hyaluronic Acid, Glycerin | Size: 5 oz. | Fragrance-Free: No
Relevant Review: "It's so gentle and makes my skin so soft and hydrated, I can have a full face of makeup on and it'll take it right off. It has a very light scent as well. A little goes a long way so a bottle will last me about 6 months"