Summer Fun Never Has To End With These Dreamy New Beauty Products
Courtesy Of Kjaer Weis Beauty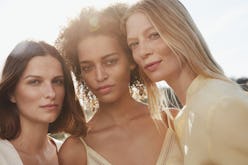 We may receive a portion of sales if you purchase a product through a link in this article.
Everyone's on the same page, right? Summer 2023 really did fly by at breakneck speed. Over the next few weeks, watch as commercials for bubbly rosés and tropical-toned nail polish get replaced by those dreaded back-to-school ads — even if you're many years past graduation, the Sunday-night feeling of mid-August is a universal one. Fortunately, the fun doesn't have to end just because summer is. August's best beauty launches are closing the season out in style, full of reasons to be excited about fall's impending arrival and the present moment alike.
The month's been an especially busy one for new hair, makeup, skin, and body care launches. Plenty are supercharged versions of all-time classics, like the just-reformulated update to Shiseido's best-selling eye cream. Others, including Tracee Ellis Ross's robust new PATTERN Beauty scalp serum, are the sort of soon-to-be staples you'll wonder how you ever lived without. Of course, some of the very best products overall are the ones that perform like an everyday workhorse, but can still be used for all the fun, viral trends dominating social media right now — most of the products here fit the bill, too.
Ahead, the very best new beauty products of August, with new additions added weekly as they roll out at retailers.
August 2023 Skin Launches
Best New Serums
Best New Lip Treatment
Best New Day Cream
Best New Makeup Remover
Best New Retinoid
Best New Essences
Best New Face Creams
Best New Eye Cream
August 2023 Makeup Launches
Best New Concealer
Best New Mascaras
Best New Bronzer
August 2023 Hair Launches
Best New Volumizer
Best New Shampoo
Best New Scalp Treatment
Best New Heat Protectant
Best New Hairspray
August 2023 Body Launches
Best New Fragrances