How To Reset Your Hair After Too Much Fun In The Sun
Get your strands in shape for fall.
@solidandstriped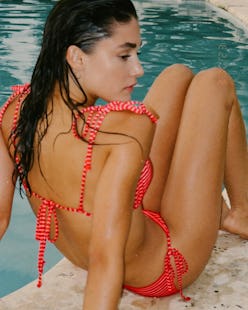 We've all been there: You kick off the summer in a rash guard, a bucket hat, and you consistently reapply sunscreen. But by the season's end, you've thrown caution to the wind, and the late summer elements have had their way with you. And while your skin might be left with a warm glow and some sweet freckles (and an early fall visit to the dermatologist), your end-of-summer hair requires an entire repair routine. That's because the strength of the sun, salt from the sea, and chemicals from pool water can leave scalps scorched, turn strands into straw, and cause color to shift and fade.
Chris Rios, a Beverly Hills-based celebrity hairstylist says that all the fun elements of the season aren't so pleasant for your hair. "Your part and hair can dry out from heat, giving you a flaky scalp and split ends," she says. "Meanwhile, color-treated hair fades or turns brassy, and chlorine will inevitably make blondes go green." So the moment the temperatures start to drop, it's time to either hightail it to your salon or begin the at-home rehabilitation process. Luckily, the damage incurred is never permanent.
Ahead, TZR turned to industry experts to find out how to nurse your scalp, color, and strands back to health after a summer well-spent.
How To Revive Faded Hair Color
Sharron Dorram, celebrity colorist and owner of Sharon Dorram Color at Sally Hershberger is no stranger to hair emergencies, citing that every fall she sees clients come into the salon with bleached out, faded, or brassy color. "The solution is to richen up hair color with lowlights, glosses and deep conditioning treatments," she says, naming her favorite treatment as Philip B's Russian Amber Hair Mask. She claims that not only does it leave hair elastic and resilient, but also restored to its original state. Brianna Dunning, a hairstylist at Striiike in Los Angeles, says that shopping for color-depositing products to refresh your shade at home can be tricky because, oftentimes, you don't know how much pigment they contain, which can yield a too-dark outcome or even a funky undertone. "I recommend products like Goldwell Soft Color Foam because they call out levels and undertones so you can tone your hair at home without the worry of making it too dark," she says, adding that it works like a colored conditioner, so there's nothing to mix and it's non-damaging. "It will hold you over until you can get to your next professional appointment — just be sure to ask your colorist which one they would recommend."
How To Soothe A Sunburned Scalp
Dorram says that one of the best rehab hacks for a scalp that's been exposed to the summer elements is to coat it with vitamin E and sleep in it while covered in a head scarf or cotton bandana (she says "the scalp will be regenerated and renewed"). Rios adds that a sunburned scalp is simply sunburned skin on your head and needs to be soothed ASAP. "Aloe vera will help alleviate discomfort and is easier to apply when hair is damp," she says (she likes R + Co Super Garden Scalp and Hair Treatment).
Mara Roszak, celebrity stylist and owner of Mare Salon in Los Angeles, agrees, saying that you should pay attention to your scalp in the same way you think about the skin on your face. "Apply my RŌZ Willow Glen Treatment Oil, which has calming botanical oils and can be used as an overnight treatment to help heal any dryness or flakiness," she says. Once the scalp is "healed" and no longer red, make sure to gently comb through your conditioner in the shower, while grazing the scalp. But she says that if it could still use some TLC after giving it a go at home, ask your salon if they offer any treatments. "It can't hurt to get some professional hands to offer a proper scalp scrub," she says. Dunning adds that if you find yourself with a "fire on your part" you can take some apple cider or white vinegar, dilute with water and dab with a cotton ball. "This will take the burn out and soothe the scalp, then follow up with some aloe vera gel."
How To Hydrate Dried-Out Hair
Rios says that once the damage is done, and your hair is "split, see-through, and crispy," the best course of action is a solid haircut (not a trim!) to get rid of the dead ends. "In addition, your hair needs to go on a holiday from flat irons and curling irons to remove more heat from the equation." She loves the Kerastase Therapiste Damaged Hair Deep Treatment Hair Care Set, which adds moisture back into parched strands.
Dorram agrees that nourishing products will give an immediate boost of hydration. She likes Virtue Lab's Split End Serum, a leave in-styling agent, and K18 Leave-In Molecular Repair Mask, which is packed with peptides. "Both products nourish and restore hair to look and actually become healthier," she says. Roszak's favorite moisturizing weapon is her new Roz Milk Hair Serum and suggests leaving it in post-wash to bring strands back to life.
And Dunning says that while chlorine can be a hair killer, certain products can actually make it worse. "If you have super dry ends from being out in the elements, use a mask that is hydrating but pass if it says 'fortifying or strengthening' on the packaging — that means that it contains protein, which makes hair more brittle," she says. "You want something that specifies 'hydrating or softening' like the Miracle Hair Mask by Eleven or the Hydr-8 by Vegamour."