About-Face Lip Gloss Plumps My Lips Without Any Weird Tingling Or Burning
The dark chocolate shade has quickly become my go-to.
Devon Abelman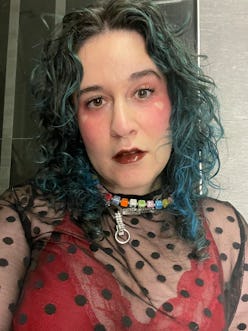 We may receive a portion of sales if you purchase a product through a link in this article.
In our series Trial Run, TZR editors and writers put the buzziest new beauty products to the test and share their honest reviews. This week, beauty writer Devon Abelman is testing the about-face Cherry Pick Lip Color Butter.
When I first saw the shade selection for Halsey's new about-face Cherry Pick Lip Color Butter, it was love at first sight. As someone who has never been in love before, I swear I don't use that phrase lightly. Self-deprecating joke aside, Cherry Pick comes in a variety of thrilling shades that are rarely offered by other brands, like an ultra-deep espresso called Date Me, a vibrant tomato-y tangerine named Orange Daze, and cinnamon-toned peach aptly dubbed Peach Punisher.
When perusing Cherry Pick's lineup, Date Me immediately caught my eye because I've been curious about trying dark brown lip gloss, but I haven't been able to find a share that aligns with my fair skin or my personal aesthetic. This 90% dark chocolate hue is unlike any lip product I've ever seen before – it's so incredibly vampy against my pale skin, but would serve as a playful neutral on deeper skin tones. Keep reading to find out how I incorporate the versatile Date Me in my makeup routine, plus all of the details on Cherry Pick's playful shades and dreamy formula.
Fast Facts
Price: $15
Size: 1.8 g/0.06 oz
Clean/Cruelty-Free: Yes
Best For: Ultra-glossy, high-impact lip color with hydrating benefits
Ingredient Highlights: Shea butter, jojoba oil, and sweet cherry seed oil
What We Like: Its fun shade selection, lip mask-like texture, and easy-to-use packaging
What We Don't Like: No notes!
Rating: 5/5
How TZR Keeps Score: 1/5: Making a return; 2/5: Keeping as a backup; 3/5: Finishing to the last drop; 4/5: Recommending to my group texts; 5/5: Already on auto-replenish
The Formula & Packaging
In Cherry Pick's formula, nourishing shea butter and moisturizing jojoba seed oil team up to keep lips soft, smooth, and supple while glazing them in intense, vinyl-like color. It's also spiked with antioxidant-rich pomegranate flower extract and sweet cherry seed oil to help protect lips from free radicals while simultaneously healing any damage. Cherry Pick also has a delicious peach fragrance (described as "sweet cinnamon peach," by the brand). However, it's in a non-cloying, La Croix way.
Cherry Pick's packaging, on the other hand, reminds me of a 2023 mess-free version of the first-ever lip gloss I carried everywhere with me as a teen: a sheer, pearlescent grape from Stila that came in one of those transparent tubes with a brush applicator. That gloss never dispensed the right amount, though. One too many clicks made it overflow like an erupting volcano, creating a sticky disaster in its cap. Luckily, you can't overdo the clicks of Cherry Pick. The pen-like packaging is non-retractable, but never overextends itself. (I wish I could relate.) My only gripe with the color-matched tube, though, is you can't tell when you're running out of product.
What I Look For In A Lip Product
I wear color on my lips every day – even when I'm not wearing makeup on the rest of my face. Because of this, I tend to gravitate toward lip products that are quick and easy to apply but pack a punch of pigment and a hefty dose of moisture. Also, I hate lip liner, so I love lip products that don't require one. To give you a better idea of my lip product vibe, Amuse Dew Tint and Makeup by Mario's MoistureGlow Plumping Lip Serum are on heavy rotation. As for shades, my go-to hues are understated reds (like tomato-toned brick), oranges (like sheer tangerine), and occasionally pinks (like peachy rose).
My Experience & Results
I fell in love with Cherry Pick as soon as I got it onto my lips. The buttery formula slides on so easily and satisfactorily, and just one click of the tube creates a stunning coat of color that isn't completely opaque, but not a watercolor-like sheer either. This aspect makes each shade look incredible on all skin tones because it stays true to the hue of its tube no matter what your natural lip tone may be. You can easily up the intensity with another click or two of the pen. I even noticed the shine amplifies to mirror-like levels if I apply another layer of it and it even gives my lips a just-got-filler plumping effect without any tingling or burning.
One aspect of Cherry Pick that may be a red flag to some people is it's not at all transfer-proof. Although it doesn't bleed out of the boundaries of your lips, you definitely will need to reapply Cherry Pick post-coffee, -eating, -kissing, -etc.
However, I don't mind that Cherry Pick doesn't stay put, though. In fact, I enjoy reapplying it – something about swiping Cherry Pick onto my lips feels indulgent and nostalgic. I also love how it fills a gap in my lip product rotation as it's not quite a water lip tint and not as thick and sticky as a lip gloss. I can best describe Cherry Pick's texture as a creamy balm or even a lightweight lip mask à la Langiege's beloved Lip Sleeping Mask.
Is About-Face's Cherry Pick Worth It?
Cherry Pick's texture is so divine, I wish there was a clear option so I can put it on as a lip mask before bed. Does that answer that question? The way it marries gorgeous, fun colors with deeply nourishing ingredients is such a dream for makeup lovers alike and makes Cherry Pick worth every dollar of its $15 price tag.