I Learned All About Habit Formation Psychology At This World-Renowned Health Spa
Canyon Ranch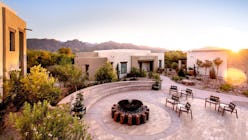 Prior to lockdown, New Year's Resolutions came easy to me. For years my goal-oriented personality made checking off my list a welcome and natural practice from January to December. When I wanted to learn guitar, I made it a monthly goal to take four to six lessons to get me there. Spanish lessons? No problem. I downloaded Duolingo and committed to forming a 15-minute-a-day habit for two years to become fluent. Running the LA Marathon in 2020, my most challenging resolution, was successful when I pushed myself in training to complete my best time yet. Like I said, resolutions used to be motivating for me, fueling me with an intense drive to strive for more complex goals each year.
Then, the age of social distancing happened. Amidst the gym closures and halt on social activities, my motivation plummeted — eventually leading me to gain 60 pounds and with minimal energy for improving my status quo. Like many at the top of this year, my biggest ambition was to establish positive wellness habits — prioritizing health in 2023. Because of that, I jumped at the opportunity to spend a week at world-renowned health spa Canyon Ranch in Tucson, Arizona. However, within minutes of arriving at the former dude ranch, it became apparent that the facility is not in the business of New Year's resolutions.
"It's January 11th, everyone's already fallen off," Jenny Simon, therapist at Canyon Ranch, tells me when discussing the cliché January tradition, a buzzy topic at the time of my trip. (Simon's not wrong: According to FranklinCovey, a time management firm, one third of resolutioners don't make it past the end of January.) To that end, Canyon Ranch's programming does not cater to short-term goals. The desert respite prides itself on true life-changing experiences for the long haul. So, with that in mind, I came to my visit with the intention to build better habits that would actually stick for years to come.
The Psychology Behind Building Long-Term Habits
At this point in the year, have you found your New Year's resolutions already bitten the dust? [awkward in past tense] Well, as it happens, there's psychology behind that. "The reason people fall off is not because they don't know better," says Amy Hawthrone, director of mental health and wellness at Canyon Ranch. "If good intentions and knowing what was going to get the results you want were the issues, you would have already been successful — it's because there are other things that end up getting in the way." Hawthorne expands on this explaining that, as humans, we believe we are making conscious choices when it comes to decision making but that the majority of what motivates us is done in our subconsciousness. "What we do at Canyon Ranch is work on the subconscious state," Hawthorne continues. "Especially in my department, mental health and wellness, we help people deeply understand what's truly motivating them and hone in on one question: Is what you want worth being uncomfortable for? And if so, how do we generate your plan?"
Hawthorne believes a majority of resolution-type goals are done in a miserable state. "Decisions made when you're incredibly stressed out or incredibly miserable, are usually not decisions that are sustainable or that you walk away from and feel really good about," says Hawthorne. "And so resolutions are usually like, 'I'm fed up with it. I'm done. Next year's going to be different.' That's not a sustainable place to be making a decision from so it usually lasts for a couple weeks."
My Experience At Canyon Ranch
When you book at Canyon Ranch, you will be prompted to select one of 14 pathways, curated experiences and treatments to focus on your specific needs while you're at the health spa. I selected the breaththrough performance option that aims for new personal, professional, and athletic excellence. During the pathway, I underwent comprehensive labs, diagnostics (electrocardiogram, pulmonary function test, and a glucose monitor), and in-depth assessments that dove into just about every aspect of my life: what workouts I enjoy, how long I'd like to spend on fitness a day, how often I travel, what health programs have failed in the past, what other lifestyle and wellness habits I practice, and so much more.
My experience at the 150-acre property made for picturesque hikes every morning, days spent taking several of Canyon Ranch's 40 fitness classes including desert drumming to release stress, chair yoga where I learned pivotal stretches for WFH life, surfset fitness where my workout mimicked a surfboard on water, gyrotonic classics, aquatic treadmills, rope courses, archery, and more.
In terms of food, Canyon Ranch definitely takes a nutrition-first approach to their offerings, but you won't feel the least deprived. I enjoyed gluten-free pastas with sausage, fennel, and mushrooms; grass-fed steak with rainbow carrots and rice pilaf; Mediterranean pizza and falafels; and a lunch and learn session where the chef taught us how to make a soy-seared steak sandwich with roasted carrot fries. Canyon Ranch also does not sell or serve alcohol, further promoting a clarity-focused week.
The 100,000-square-foot iconic spa houses a gym, cycling and pilates studio, tennis and basketball courts, pool, and beauty salon. Although all this was great, it was the spa menu that placed Canyon Ranch in its own league. With stress and anxiety consuming the lives of so many over the last three years, having the opportunity to experience the VENN Collagen Facial, Candle Massage, Slice Of Heaven Massage, and a Deep-Tissue Massage to melt the stress (known and unknown) away was game-changing. The facility is also home to holistic offerings like acupuncture, tarot card readings, and metaphysical services like inner balance, hypnotherapy, and crystal sound activation to better your internal thoughts and intention setting.
The great thing about Canyon Ranch is that the scheduled programs planned for each pathway are not seen as mandatory, but more of a guideline with zero pressure to do more than you desire. One day, I decided to skip an assessment and went to a lecture on public speaking by Eileen Shenker where I learned what was stopping me from feeling confident while speaking — playing into the spa's signature mind improvement component.
What Canyon Ranch Taught Me About Habit Forming
Canyon Ranch is the most immersive facility I've ever been to, with medical, spiritual, health, wellness, and nutrition all aligned under one roof. "We're not functioning in a vacuum," Hawthorne tells me. "People come here and have the opportunity to see the interplay between all these different parts of themselves." At the price point, averaging about $900 a night, and the variety of experts all within an arms reach, it's incredible what you are able to accomplish at the property — without the hardship of searching for a health specialist and spending money on each individual experience. It is an expensive encounter, but worth it in that it can potentially save you on treatments and services needed for the long run.
Through my specific curated program — therapy sessions with Simon, performance science with a personal trainer, and fortifying nutrition throughout the week — I was better able to understand the root of lack of motivation at home. I wasn't working out because I was doing the same mundane routine in the apartment that I work, eat, and sleep in and there was no point of interest or excitement. The heart of of my issue was the need for a routine revamp. "When you cultivate insight, it gives you perspective," Hawthorne says. "When you have a different perspective, you can really start to change. Anyone can hang in there and eat vegetables for 11 days of January, but unless you understand what's standing in your way, it's going to be hard to keep doing that — it's not sustainable," Simon tells me. That is the basis of everything at Canyon Ranch, understanding your thought patterns and getting to the root of the issues hindering growth.
My Progress Post-Canyon Ranch
As a beauty writer, I've had the pleasure of experiencing a variety of spa and wellness facilities and retreats that would impact me temporarily but had no real staying-power. Mainly, this has a lot to do with a lack of follow-up post-visit. That's the difference with Canyon Ranch; there's opportunity for people to stay connected in a multitude of ways. "We firmly believe in people's profound abilities to heal and change, as well as the responsibility of each person," Hawthorne tells me. "We give people the tools not only when they are staying with us, but to carry out the plan or habit they formed while here, when they go back to their daily lives."
Each department (pathway) has ongoing follow-ups and contact information for continued communication. For performance science, your fitness coach will create a one-year plan for you to follow via the Canyon Ranch App — filled with workouts, tips, and tutorials. For therapy, you can opt in for telatherapy to further delve into your setbacks and progress. The medical department can even send you replenishments for products they subscribed.
For my plan, as someone getting back into a regular health and wellness routine, my goal of losing four to five pounds a month, was broken down into two categories. The first phase focused on building back my stamina, with strength training and cardio at the top of the list. The second phase looked at switching things up and upgrading my routine to avoid plateauing.
"My goal with people is that when they leave my office they understand something different about themselves, they make a connection that they haven't made before — that's my goal," Hawthorne shares. When you break down the process and end result of a resolution, it's all about changing your habits and incorporating new ones until they are eventually permanent.
Canyon Ranch has transformative experiences that linger long after a single stay. It's the renewal, wellness, and discovery principles that I learned at the facility that have stuck with me the entire duration of January, up until now, and I'm sure, beyond. Going to the health spa the first month of the year truly cultivated a posture of tranquility and change to start out 2023 properly. It was the exact reset that I needed.