I Tried A Different Approach To The Typical Wellness Trip — And I'm Completely Obsessed
No tropical islands here.
Courtesy of Carton House, a Fairmont Managed Hotel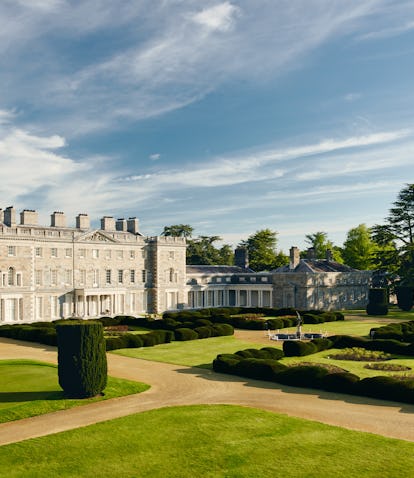 As a travel writer, I get endless pitches about wellness offerings. And while there are few that don't sound lovely, in general, they're all mostly the same: Remote, warm destinations centered around state-of-the-art spas and mindfulness activities. Let me be clear — there is absolutely nothing wrong with this approach to a healing vacation. In fact, I traveled to a resort that closely fit this description just last year, and it was one of the most serene getaways I've ever had. But at this point, my eyes tend to glaze over when I read about fitness programs that include yoga on the beach and outdoor massages. In 2022, I started to crave a new approach to the traditional "wellness trip" — and apparently, I wasn't alone.
In fact, in the 2023 travel predictions from Expedia Group (based on insights sourced from the company's first-party data as well as custom research), Hotels.com reported that "more than half (53%t) of Americans are seeking wellness breaks but cite boredom for traditional retreats and want to experience something more exciting in 2023." Nowadays, continued the release, travelers are looking for unique alternatives. "Sylvotherapy, forest bathing, and fruit harvesting are more popular than classic activities like cooking courses, sport holidays, and meditation sessions."
Knowing this, it's not shocking that I've recently begun seeing news of less typical opportunities for rest and relaxation. And it also probably won't come as a surprise to you that, when I was offered the chance to experience something different than the usual seaside holiday for myself, I accepted immediately.
Carton HousePhoto by Anna Buckman
Fairmont Windsor ParkCourtesy of Fairmont Windsor Park
That "chance" was a trip to two different properties: a regal old Irish manor called Carton House (a Fairmont Managed Hotel) in Maynooth, County Kildare, and Fairmont Windsor Park, a stunning Windsor hotel in the English countryside. Now, to be fair, neither of these are the most out-of-the-box places to have a wellness escape. Yet at the same time, there was no balmy weather or workouts by the pool. Instead, I was looking at nearly a week spent in rural areas and cold temperatures, driving through the woods, sipping whiskey, and strolling through quaint towns. This was far from a healing journey in Mexico — and I couldn't have been more excited.
I may not have returned home sun-kissed or more flexible, but upon this trip's conclusion, I can honestly say I've never felt more rejuvenated from my travels. Here's why the less-traditional approaches to wellness that each of these hotels (and locations) offer are ones I now wholeheartedly recommend.
Carton House
When I first learned of this trip, I thought that the experience at each property I planned to visit would be mostly the same. It was not. What I quickly realized was that both had their own distinct offerings and surroundings. And while I loved Carton House and Fairmont Windsor Park equally, there are definitely different reasons one would go.
For me, Carton House was the perfect combination of adventure, nature, and peace. The Palladian mansion is the epitome of an escape: It not only rests on 1,100 acres of Kildare parkland, but the hotel itself is a sprawling building with ample space to explore, learn, and relax. And that's exactly what I did during the few days I spent there.
The resort offers several activities for guests — falconry, cycling, archery, and golfing are just a few of the many listed on its site. However, there are a couple in particular I got to try that I can personally recommend for a rejuvenating stay.
A classic car at Carton HouseVideo by Anna Buckman
An off-roading experience at Carton HousePhoto by Anna Buckman
My favorite, by far, was a classic car driving tour of the local countryside. This may not scream "wellness" to you, sure. But exploring the area in an old vehicle and taking in Ireland's incredible scenery is one of the loveliest ways I can think of to spend a morning, and it definitely fed my soul. Speaking of cars, the hotel also arranged an off-roading experience in the woods on the property that was, shockingly to me, a blast. Though a little scary at times (when we were practically sideways on a hill in the mud, for example), this experience got me to try something new and step out of my comfort zone — a practice the property seemed to have a knack for.
Otherwise, I think one of the best ways to improve wellbeing at Carton House is just to enjoy the hotel itself. If you appreciate interior design and history, this place is heaven; I constantly got lost wandering the rooms, taking in the beautiful decor and exploring the winding, drafty hallways. The Courtyard Bar, in particular, was a favorite spot of mine; with ample light, luxurious furnishings that blend old and new, and an outdoors-meets-in atmosphere, it was a place I could have spent hours sipping whiskey sours. And don't even get me started on the restaurants — I could go on for days waxing poetic about the comfort food at ultra-cozy Kathleen's Kitchen and The Morrison Room's elegant dishes and incredible views.
Kathleen's KitchenCourtesy of Carton House, a Fairmont Managed Hotel
The Courtyard BarCourtesy of Carton House, a Fairmont Managed Hotel
I will mention that, personally, I would not travel to Carton House for the actual wellness facilities alone; they're more of a perk than a destination. Yes, the pool is beautiful, there is fitness equipment, and spa treatments are available to book. However, they personally felt more like an afterthought — in fact, it took me about 15 minutes and three separate conversations with staff just to find these areas at all. I didn't really care during my stay, but it is something to take into account if you're planning your own wellness-oriented trip here and want something more substantial in these areas.
That aside, all in all, this special spot in Ireland became my new perfect idea of a wellness trip: History, nature, adventures, delicious food, beautiful interiors, and a general feeling of coziness. And fortunately, that was just the start.
Fairmont Windsor Park
Given that Fairmont Windsor Park, the second location I visited on this trip, was also a large hotel set in the countryside, I assumed the experiences of both would be the same. They weren't at all. Carton House is (largely) old, surrounded by nature, and full of adventures; Fairmont Windsor Park felt the opposite in almost every way. Located on the edge of Windsor Great Park, it was formerly a private home that has been rebuilt. While its design is meant to reflect "the traditional exterior of Jacobean architecture synonymous with the locale," it is very much new — and feels that way, too.
Carton House may seem an aristocratic, and somewhat rugged, escape. But at this hotel, the experience can basically be summed up in the word "bougie." Yes, you can walk around on its neatly manicured 40 acres and pretend you're being outdoorsy. But that's definitely not the draw (or the point) here. For me, wellness at Fairmont Windsor Park was about one thing: being pampered, and luxuriously so.
A hallway at the hotelPhoto by Anna Buckman
The hotel lobbyPhoto by Anna Buckman
That's not just because of all the amenities, either. The entire hotel feels posh and modern: Rooms are plush and cozy and restaurants are sophisticated and over-the-top. You will eat and sleep like royalty here — and not in an 18th-century way.
That said, the amenities are definitely here to impress. If you like your wellness destinations to come with a spa, this is your spot: Fairmont Windsor Park offers 18 treatment rooms, traditional Hammam, a large indoor pool, a courtyard vitality pool, cryotherapy, a Himalayan salt room, and much more. Sadly, I wasn't able to spend much time enjoying it, but my massage was one of the best I've ever had, and exploring the facilities was a fun and relaxing experience. In my opinion, it would definitely be possible to spend a few days in the spa without getting bored.
And that's not even taking into account the fitness center. If working out fits into your idea of wellness, then this place is your jam. For a hotel, the gym is massive — and, true to form, incredibly fancy. There's a whole range of workout equipment, in addition to group classes. I got to work out with a trainer while I was there, and, as someone who exercises frequently, I was impressed by the session. The area was clean, the staff was professional and knowledgable, and the space was cool. Prefer to sweat outside? There are even outdoor offerings like tennis courts as well.
Of course, you can find nice gyms and big spas at many places around the world. What I think sets Fairmont Windsor Park apart as a unique wellness destination is its location. It's adjacent to Windsor Great Park and the Savill Garden, and near landmarks like Windsor Castle and Frogmore House. So, to cap off your days of rest, you can head to picturesque Windsor and stroll around (or ride in a horse-drawn carriage, like I did) to shop and spend a few lazy hours in a pub before heading back to your home base for an indulgent dinner. If that's not a healing experience, I don't know what is.
Final Takeaway
With the increasing demand for "new wave wellness" experiences, there's no shortage of options for those looking to plan a wellbeing-focused escape. And that's good, because wellness looks different for everyone. Car rides through the Irish countryside or cozy days in an English town post-spa may not be everyone's chosen way of unwinding. And maybe you'd even prefer one of these scenarios over the other. However, I learned that both definitely are for me. In the future, I'd probably visit the aforementioned destinations on separate occasions and for very different reasons. But rest assured: I'm already plotting my trips back to both these hotels for whenever I need a me-time getaway.