Youth To The People's Adaptogen Line Just Got A Very Hydrating New Addition
Youth To The People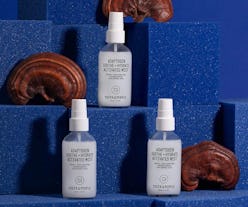 If you're a big fan of face mists, it's most likely because they just feel so good when spritzed over your skin (especially on a warm summer day). You probably don't expect them to make a major difference for your complexion, other than cooling you down or helping your makeup look as fresh as it did first thing in the morning. Until now. That's because Youth To The People's Adaptogen Soothe + Hydrate Activated Mist isn't like any other mist you've tried before, because it's full of active ingredients typically found in other skincare products — and you should probably add it to your beauty shelf.
Clean and natural beauty brand Youth To The People's mission is clear: To give you gorgeously glowing, youthful skin courtesy of the latest clinical pro-grade actives and cutting edge superfood ingredients (all while pushing industry standards to create a more eco-conscious model, to boot). The cult-loved and very-Instagrammable brand continues to turn out new products that are as on trend and aesthetically pleasing as they are effective — case in point, its sleeping mask dropped earlier this year — and the latest launch is no exception.
Youth To The People's newest product, the Adaptogen Soothe + Hydrate Activated Mist is now up for grabs on the brand's site as well as Sephora's online store, and it's about to totally change the way you think about face mists (and even skin care in general). The super-fine spray has been formulated with many of the same ingredients found in the brand's richly hydrating Adaptogen Deep Moisture Cream, so your face can receive a fresh burst of all those beneficial ingredients at any time of day.
The supercharged new mist, $42, is filled with tons of antioxidant-rich adaptogen ingredients like reishi mushrooms, rhodiola and ashwaganda that work to calm irritation and redness so your complexion can destress, while powerhouse hydrators hyaluronic acid and encapsulated noncomedogenic shea butter and pentapeptide activate on skin to instantly moisturize and increase water retention. In other words, this mist won't just wake you up, it'll actually help heal and protect skin that's looking tired and dull — just like a serum or rich moisturizer would.
Spritz this powerhouse spray onto skin any time you would another facial mist, or any time you'd typically apply a hydrating and calming serum; after cleansing your face morning and night, pre and post makeup application, and throughout the day to help combat against potential irritants like pollution and free radicals. The more you use it, the happier your complexion will look (and feel).
Below, see more on Youth To The People's innovative new mist, and snag a bottle for yourself.