Youth To The People Made A Bigger Size Of Its Popular Cleanser To Help Cut Down On Waste
Youth to the People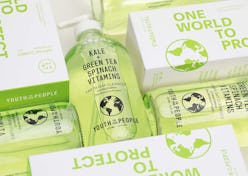 Whether it's slowly incorporating more ethically made pieces into your wardrobe, tossing out any harsh beauty products, or reducing your daily use of plastic, leading an eco-friendly lifestyle definitely takes some effort. So when a brand you already use introduces a product to make it a little easier, no one would blame you for buying it immediately. Youth to the People's new Earth Day Cleanser is one of those items that's designed to help you create a more sustainable routine — and it's one you're going to want to add to cart ASAP.
Just in time for Earth Day, Youth to the People launched a limited-edition 16 oz. size of its best-selling Superfood Cleanser. Rather than purchasing a new 8 oz. bottle every time you run out, the $54 Earth Day Edition of the cleanser gives you twice the amount. With more of the formula readily available, you can refill your regular-size bottle at any moment — all while reducing waste in the process. This larger bottle is also perfect for refilling the brand's Mini Cleanser, an essential option for when you're on the go.
As if this eco-friendly product couldn't get any better, Youth to the People is also celebrating Earth Day by supporting those working toward a more sustainable world. For every Earth Day Edition of the cleanser sold, the cult-favorite clean beauty brand is donating $1 to organizations that strive to protect the planet.
Not familiar with this cleanser yet? The sulfate-free product, which is packed with a blend of kale, spinach, green tea, and alfalfa, is essentially a green detox for your skin. And as Joshua Zeichner, the director of cosmetic and clinical research in dermatology at Mount Sinai Hospital in New York City, told Sarah Kinonen for Allure in 2016, "Both kale and spinach are rich in a variety of potent antioxidants that help reduce skin inflammation." In addition to these ingredients, the cleanser also contains vitamins C, E, and K to help brighten and repair skin.
Youth to the People is a plant-based and cruelty-free skincare line that has gained a massive following for its vegan products. The company also dedicates itself to promoting sustainability and environmental protection in the form of natural ingredients and recyclable bottles and jars.
If you're on board and ready to reduce your waste, scroll down a bit further to add the Earth Day Edition of the Superfood Cleanser to your cart.