This Insta-Favorite Brand Is Bringing Brightening Ingredients To Your Masks, Too
Youth to the People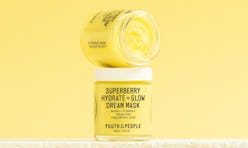 Now that 2019 is officially here, you've probably already recovered from the hectic holiday shopping season and festive get-togethers with your friends and family. That said, the beginning of a new year always brings a sentiment of pushing the reset button — especially when it comes to your self-care. Lucky for you, Youth to the People's Superberry Hydrate + Glow Dream Mask just launched, which will put you in the mood for an extra serving of quality time at home.
Youth to the People, a cult-favorite among clean beauty brands, is a plant-based skincare line known for bringing nutrient-rich ingredients to its 100 percent vegan products, and its latest mask is no exception. The Superberry Hydrate + Glow Dream Mask, which is available for $48, is just as good as it sounds.
The overnight mask is made with a number of maqui, goji, acai, and prickly pear berries, otherwise known as superberries, which are packed with antioxidants. Plus, it also includes Vitamin C, contributing to a brighter complexion. If this mask is anything like the California-based brand's other items, then you know it'll be one to use on a regular basis.
Vitamin C, also known as ascorbic acid, is an ingredient that promotes the overall look and feel of your skin — and one that's been especially popular in new launches as of late thanks to its brightening powers. According to Allure's essential skincare glossary, the ingredient works to reduce inflammation and promotes healthy collagen production, making it a favorite among skincare products. Another key ingredient to this mask is squalane, which, according to an article by Susan Brickell on Health from November 2018, can help with anti-aging and preserve the moisture barrier of skin to help keep you hydrated.
Of course, there are also the superberries. And while they all smell amazing, it's maqui that stands out. As the most antioxidant-rich of the bunch, this Chilean berry, according to an article on Allure from November 2017, can help boost collagen in your skin.
As you continue to commit to those New Year's resolutions involving self-care (hello, new workouts and lifestyle choices), finish off your nightly routine by applying this cream mask. With a thin layer, your skin will absorb the mask and experience ultimate hydration and brightening, all while you're sleeping. As a fuss-free mask that was created to treat dryness and uneven skin tone, this mask will be the perfect combat to the harsh winds and dry air of the winter season. Besides, is there anything that feels better than waking up to a well-rested complexion? Answer: No.
Ready to start the new year with some game-changing self-care? Scroll down to shop the Superberry Mask from Youth to the People below. Hands down, mask will be one of the best (and most effortless) beauty treatments to treat yourself with this season. You'll start 2019 on a high note, guaranteed.