Yara Shahidi's Go-To Eyeliner Will Convince You To Get Creative With Color This Spring
Frazer Harrison/Getty Images Entertainment/Getty Images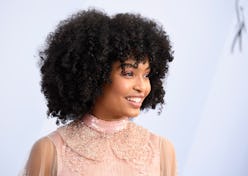 Whether she's experimenting with offbeat beauty looks or lifting her voice around social and political movements, Yara Shahidi is a natural-born leader whose fearlessness manifests in more ways than one. While demonstrating her skincare and makeup routine for Vogue, the 19-year-old proved that despite being wise beyond her years on real world issues, she possesses a refreshing dose of playfulness — often channeled through artful, statement makeup looks. Aside from her flushed cheeks, primed skin, and vivacious disposition in the tutorial, Yara Shahidi's colorful eyeliner is worth adopting this spring.
For the step-by-step process coined the "when I feel like doing makeup" routine, the actor started out with SK-II's Facial Treatment Mask that will run you a hefty $95 per six-pack. But judging by hundreds of five-star reviews on Sephora.com, it's likely a sound investment. "You will look ten years younger, like you have slept the best sleep you have had in years, like you just came out of the womb," one satisfied customer raved. And if Shahidi's dewy glow is any indication of the mask's efficacy, it's certainly worth a shot.
After the sheet mask's serum set in, the Grownish star moved on to Bobbi Brown's Vitamin Enriched Face Base Priming Moisturizer for optimal "raw energy and mood." Every skincare devotee knows what a good moisturizer can do for an internal glow-up. After optimal spritzes of an unidentified facial spray, the beauty enthusiast began on makeup, applying a natural-finish foundation using a brush and a damp Beauty Blender. Finally, after grooming her brows and adding a touch of color to her eyelids and lips, the real fun began.
Getting creative with a vivid orange eyeliner, Shahidi added strokes of color above her crease and beneath the lash line. Channeling artistic beauty looks championed by '60s icons such as Twiggy, Shahidi brought a painterly, retro vibe to the experimental eye look. Modern-day beauties like Tracee Ellis Ross and Shanina Shaik have flirted with the artistic eyeliner technique, proving that amping up colors and shapes can add an aspirational, editorial feel to your beauty vibe. With springtime in full swing, it's an ideal time to shake things up and have some fun, so why not give the celebrity-approved trend a whirl?
Whether you're looking to amp up the vibrancy or keep things neutral, there are countless product options to assist in pulling this look off. Start with The Zoe Report's selection below, and channel Shahidi's exuberant spirit with statement eyeliner this spring.
Shop The Products