8 Wonder-Working Products For Yara Shahidi-Worthy Curls
Emma McIntyre/Getty Images Entertainment/Getty Images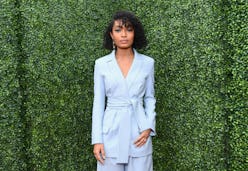 Anyone with natural hair knows Yara Shahidi's curls are something to celebrate. Every time the Grown-ish star posts her voluminous, luscious locks on Instagram, she further proves just how gorgeous natural hair is, sans heat and chemicals. With so many women of color ditching flat irons and relaxers, beauty icons like Shahidi continue to lead the charge in opting for healthy, hydrated curls.
Aside from being wise beyond her years and fierce in her convictions, Shahidi has been up front about the struggles that come along with personal choices around hair as a WOC in the public eye. She told The Cut her journey towards embracing her natural texture is something she continues to pursue, but the actor also isn't against picking up a straightener from time to time.
Aside from the rare occasions she does opt for a straight style, Shahidi can usually be found rocking a bouncy, moisturized bob or a high bun. The actor told Essence she saves heat and styling for special events, and is otherwise huge on protective styles like no-fuss updos, braids, and twist-outs that preserve curls from breakage caused by too much fuss and manipulation.
"I love my hair when it's curly and huge. I tend to have a natural moptop when I do my hair, and I fully embrace it," Shahidi shared with Yahoo Style. "I've done a year of no heat. It's just helped so much. After all that effort, you have no choice but to take care of your hair."
Clearly, the Harvard student is 100 percent here for volume, and credits dedicated protective styling for combatting stubborn heat damage (aka the bane of curly existence).
Now that the natural hair movement has become so commonplace in the black community, more and more brands are offering products with naturally curly textures in mind (about time!). But with so many options on the market, carefully crafting a well-rounded routine can be overwhelming.
No head of curls are the same, so the details of any natural hair routine depend on your specific needs, curl pattern, and thickness. Kinky curls can benefit from elongating products, while volumizing spray might be a better match for looser curls. Regardless of your desired areas of improvement, moisture is crucial.
Whether you're looking to totally revamp your routine or just want to add a new power product into your rotation, read on for The Zoe Report's top picks for a Yara-inspired head of curls, below.
Detangler
Thick-Tooth Comb
Cleansing Conditioner
Conditioning Mask
Leave-In Conditioner
Styling Cream
Refreshing Spray
Silk Pillowcase