These Are The *Only* Skincare Products You Need For A Yara Shahidi-Inspired Glow
@yarashahidi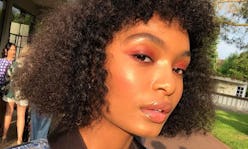 Ah, Instagram. That faraway digital land where the world spends nearly an hour per day scrolling through vacation snaps, oat milk lattes, product flat lays, and selfies. Among the abundance of digital self-portraiture taken on the nifty front-facing camera, there lie a few gems that make you stop mid-scroll. That is, blindingly bright, photographic treasures that cause you to pause and wonder: "what is the lowdown on Yara Shahidi's skincare routine?"
The 18-year-old actor, model, and activist has been casually taking over the world for a few years now, equipped with ample amounts of brains, beauty, and talent. But one luminous, dewy cherry on top of the rising game-changer is her incredibly radiant complexion, which is regularly documented on Shahidi's social media platforms.
Take one look at her Instagram, and it's safe to say she's got a PhD in finding her light. Whether off on a family vacation, on set for Grown-ish, or just goofing around, the girl's glow is always on another level — a level everyone should strive to be on, after acquiring a carefully crafted skincare regimen.
A healthy glow like Shahidi's doesn't happen overnight. The first step in achieving a radiant complexion is identifying your skin type, and understanding where it requires extra TLC. Is it super sensitive? Invest in calming masks to soothe irritation. Struggling with mid-winter dryness? Adopt a top-notch moisturizer in order to stay hydrated throughout the brutal winter months.
With all of the products on the market, establishing a regimen can seem daunting — but it doesn't have to be. There are a few foundational hero products that serve as a great place to start when figuring out what works best for you.
With Yara Shahidi's exceptional glow in mind, The Zoe Report selected seven key products to get you started. Ahead, shop the selections and prepare for your glow-up.
Get The Look