5 Surprisingly Chic Wall Decor Ideas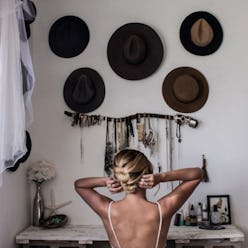 Furniture may be the foundation of a home, but what you choose to hang on the walls instantly articulates your personal style. Wall decor can convey a mood, create a vibe and set the tone for each and every space in your home. And the best part is it's just as fluid as your changing tastes. If you fancy yourself a forward thinker, then you know there is more to decorating than framing a photograph or buying a print at the mall. In fact, forget about art on canvas or behind a piece of glass altogether. The options for wall decor can be as eclectic and out of the box as you dare to go, but finding the right pieces is a daunting task. We took a look beyond the usual framed fare and found five unique ways to fill those empty walls.
Hats
Just as the perfect hat can literally make an outfit, it can do the same for your home … adding that ultra-cool element when styled just the right way. Put your hat collection to good use by selecting your faves and hanging them together either symmetrically or in a purposeful bunch. We love them over the bed, in a cozy corner or in the entryway for an effortlessly chic effect. You can fetch one as you head out the door and replace it when you return home.
Paper Roll Holder
Give your chalkboard wall a rest and make room for this fun and functional art installation better known as "the paper holder." The industrial feel makes a bold statement while still offering simplicity and clean lines. Plus, it serves a real purpose. Hang a row of three in a kid's bedroom or playroom and let them literally draw on the walls … or find a spot in your home office or kitchen and you'll never tire of making lists again.
The Modern Tapestry
Popularized in the 1960s where they hung in dorm rooms and studio apartments everywhere, the tapestry is currently enjoying a welcome resurgence. Thanks in part to their evolved designs and modern silhouettes, tapestries still evoke that familiar feeling of serenity and warmth that every home craves. Perfect for when you need to fill a large wall space, they add moodiness with their movement, letting your guests know they are welcome.
Baskets
We love baskets in all of their iterations. Choose the everyday wicker variety for an organic look, African-inspired designs to add a bold richness to the space or mix and match. Hang them in a cluster in the dining room or curate a collection over your couch. They can be as neutral or embellished as you like and, trust us, they work in every room.
Feathers
They're called Juju hats, and they pack a major style punch. Delicate, whimsical and full of texture, they will make a room come to life. Jujus are available in lots of colors and sizes, so have some fun and pop one up over your bed, in your entryway or as part of a gallery wall. However you use these playful pieces, they'll be a standout piece in your home.