You Can Get This $20 Wall Hanging Shipped To You In 24 Hours — For Free
Amazon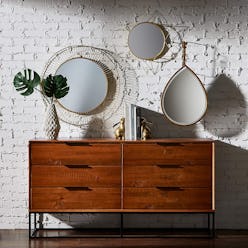 Of all the rooms in your home, there's one that gets the most traffic: the living room. Because of this, it's the space that houses all the important furniture you'd want to show off: an impressive TV, a velvet tufted couch, vintage coffee table, and, of course, your fanciest wall decor.
Living rooms walls are comparable to that of an art gallery in that they are meant to be inspected, admired, and envy-inducing. They're prime real estate for displaying your personal aesthetic and set the tone for your home's overall creative vision. That's a lot of pressure to put on a few 8'-by-8' blank spaces, right? And, as ideal and impressive as an original Monet or Warhol would be (perchance to dream) on your wall, they're not the most accessible or economical decor options. Who has thousands — nay, millions — to spend on high-end investment art? That said, you can still make a masterpiece of the common area and give it that carefully curated look, sans the wallet-burning price tag. It can be done.
Who do you have to thank for making your wall decor dreams come true? None other than everybody's favorite obsession, Amazon. In addition to the household knick knacks, beauty supplies, and literally everything else you order on the regular, the online retailer is also chock-full of some fairly stunning wall pieces. Just do a quick search of "living room wall decor" and watch your screen come alive with all manner of decorative gems. Hanging planters, antique-looking mirrors, eclectic picture frames — they're all at your fingertips and most of them can probably be on your doorstep faster than you can say Pablo Picasso (if not sooner—thank you, same-day shipping!).
So, if you're one for retro silhouettes and finishes and vintage-centric art, there's plenty to choose from on Amazon. You can pick up a three-panel canvas print, rustic, distressed mirror, or torched-wood floating shelves to splash across your living room walls. If you're more of a mid-century modern enthusiast, a geometric hanging planter, minimalist metal wall clock, or abstract image might be up your alley. Even the lover of all things bohemian has a variety of tapestries, macrame woven wall pieces, and cool wooden picture frames to choose from. (Oh, and if you want a famous painting on your wall but don't have the budget for the original, snatch up a framed art print!)
Ahead, you'll find a plethora of wall art for every aesthetic and personality, most of which are also available on Amazon Prime. You know what that means: You can have your walls decked out in a day or two, no questions asked. Now, all you need are nails and a hammer ... which you can also find on the site (two birds with one stone, right?). So get ready to add to cart and maximize all of that prime living room real estate. Warning: Your next friendly gathering might incite some jealousy.