Why Oribe's Highly Textured Collection Took Over A Year To Formulate
Oribe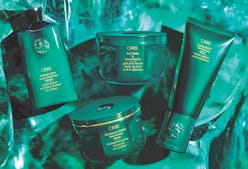 At any given moment, any naturalista probably has at least 10 half-used shampoos, 20 deep conditioners, and dozens of assorted stylers sitting on her sink. Finding the right natural hair product combination is a process that takes a few tries, and more than a few samples — every curl is different, and many people have more than one curl pattern. So when it came time to create the Oribe Highly Textured Collection, a line specifically targeted to Type 3 and Type 4 curls, the team took their time to make a series of products that are meant to be mainstays on your vanity.
"Yes, it's been a long time coming," celebrity hairstylist Stacey Ciceron, who helped design the line, tells me after a launch event on Mar. 19. "It's been about a year and a half. We did some product testing, but what I really like is the fact the team didn't just test it in the office like some companies do. They literally had models come in, they gave it to stylists to try out. Professionals were the ones trying the products, and we were also trying it on live models that had all different types of hair types."
Ciceron, who also helped develop products for brands like SheaMoisture and bumble and bumble, notes that her vast experience provided major insight for what she wanted to see created... and the fact that she, too, has natural hair was helpful, too. "I had my one foot in with the everyday consumer, but I also had another foot in with professional stylists," she says. "So I heard the gripes of both sides and was able to bring both to the table."
Some of the gaps that she noticed in the field was a lack of luxury products that address a tighter curl. And granted, the first products from Highly Textured — a leave-in conditioner, a styling butter, a curl jelly, and a deep conditioning mask — are all mainstays that you can find in most natural haircare ranges. But the point of differentiation here is that Oribe seal of quality, especially with ingredients like coconut oil and mango seed butter spun into the products. And like most natural hair products, these are meant to be cocktailed and combined with other good-for-you products. "One of my favorite things to do while taking out a twist-out is to add some kind of nourishing oil like coconut, jojoba, olive... anything I can find in my kitchen. But in the meantime I use the Gold Lust Nourishing Oil," Ciceron says.
Another factor that Ciceron and the team kept into consideration was product size. Since curls require copious moisture, naturalistas use a lot of product — which is why many opt for drugstore brands... you get more bang for your buck. So the design team took special care to make more room inside of the product by eliminating the "little cup" (most Oribe products are housed in plastic containers that are inside of heavier glass-looking canister.
As for the next round of launches, those are still under wraps... but rest assured that they'll be just as carefully curated and created with consideration. "I'm really excited to expand the collection. There are a few things that we can expand with, but it's still a conversation," Ciceron notes. "We really want this to kick off strongly and create a nice little buzz. And I think that's already starting to happen."
Shop the collection below.