Oribe's Natural Hair Care Collection Is Coming — Here's What You Need To Know
Courtesy of Oribe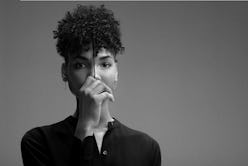 For the creators at Oribe, the latest release is more than just another hair care product launch. The Oribe Highly Textured Hair collection is connected to a movement. "In the last 10 years, the natural hair movement has gone from a trend to something that is here to stay," celebrity stylist and industry veteran Stacey Ciceron said in a press email. "In that time frame there was a period where there was no technology and no products to support this emerging community of women and men."
The four new hair products will join other curl-enhancers from Oribe's Moisture & Control collection on Oribe.com April 1. While those with type 2 through 4 waves and curls were able to use Moisture & Control products before, the Highly Textured Hair collection's styling products are specifically made for type 3 and 4 curls; this includes the new Priming Lotion Leave-In Conditioning Detangler ($38), Styling Butter Curl Enhancing Crème ($46), and Curl Gelée for Shine & Definition ($44). The other upcoming addition — the $63 Moisture & Control Deep Treatment Masque — is suitable for type 2, 3, or 4 hair.
"The existing products are for those with wavy to curly hair, while these new launches are geared toward the naturalistas that have tightly coiled hair," Ciceron, who helped Oribe develop the new collection, explained. "I'm big on building a foundation through fundamentals, and these are the four products we thought would be that foundation." And it's true: The collection provides the right tools to moisturize, detangle, define, and shape your hair.
As you probably know, Oribe isn't the first to offer natural hair care. However, the brand is purposeful in expanding the product options in the luxury space (and if you've tried an Oribe product before, you know how luxe they are). "The community had been trying to figure out natural hair on its own, and people had to search high and low for things to meet their needs. Now there are more options, but people want to have an elevated experience," Ciceron noted. "Because this market is not saturated with options, we want to be one of the first to offer this upgrade."
And the upgrades — and the Oribe team's year of development time — show. Each silicone, sulfate, and paraben-free product is packed with powerful ingredients vitamin-rich hydrolyzed baobab seed extract, nourishing jojoba seed oil, and the Oribe Signature Complex (a blend of watermelon, lychee, and edelweiss flower extracts); the products are dermatologist-tested, vegan, and cruelty-free, as well. The formulas help each of the new products to be serious multi-taskers: the deep treatment mask conditions and seals the hair cuticle and restores hair elasticity, preventing breakage. The curl gelée defines the curls (sans crunchiness) and hydrates hair, leaving behind a glossy finish.
In the words of Oribe: these are products for the hair-obsessed. Sound like the perfect description for yourself? Check back at Oribe's website April 1 to shop the new Highly Textured Hair collection.