Dolly Parton Is The Only Holiday Style Icon I Care About This Year
Bob D'Amico/Walt Disney Television via Getty Images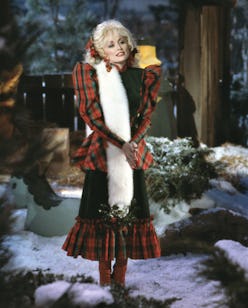 As much as I respect and admire the minimalist aesthetic, I don't personally align with it. My look has always erred on the side of over-the-top — as have my style icons. At the top of my list of marvelously excessive fashion legends is Dolly Parton and her iconic outfit repertoire. As someone who dresses with a heaping dose of glam — even for the office — I often call upon the country singer for style inspiration, particularly around the holiday season.
My love for Parton can be traced back to my early childhood when I discovered my all-time favorite movie Steel Magnolias. Parton played a vivacious and warm hair salon owner named Truvy Jones. Between the creamsicle-colored, lace-adorned '80s ensembles and memorable lines ("I don't trust anyone who does their own hair. I don't think it's natural"), I fell under the Parton spell almost instantly. Over the years, I've continued to follow her career, memorize her songs, and consume her unabashadly glitzy style moments with the voracity that only comes from true devotion and fandom.
Parton is now back in the center of the cultural zeitgeist thanks to a new NPR podcast and a forthcoming Netflix documentary, which makes it an ideal time to also revisit her outfits — especially those from her wonderfully campy holiday movies and shows. As I've been carefully contemplating my own holiday looks, all roads naturally lead to the 9 to 5 star. Fringe detailing, all-pink get-ups, bedazzled boots, statement jewelry — nothing screams (or perhaps belts out) "happy holidays" like a Parton ensemble. To pay proper homage to the musical icon who shaped my childhood, I'm dedicating this holiday season to the country goddess herself and channeling her from head to toe, earrings to stilettos. Ahead, the 10 pieces I'm dubbing "pieces of Parton." I will always love you, Dolly.
Fringe
Over the span of her 50-year musical career, Parton has embraced the flashy fringe look that is synonymous with many country starlets. Despite the fact that I can't carry a tune, I plan to play the part via a fringe clutch or party dress.
All Pink Everything
Arguably one of Parton's most iconic looks is the all-pink-everything outfit worn on the cover of her 1978 album, appropriately titled Heartbreaker. As a fan of the shade myself, I have every intention to invest in some rosy pieces I can mix and match — or wear all at once.
Rhinestone Cowgirl
In addition to fringe, Parton has embraced the rhinestone look since the start of her career. The holiday party circuit serves as the ideal landscape to follow in the singer's footsteps. A textured white Western boot worn under a flashy sparkling gown feels particularly festive and fun.
Denim On Bottom, Party On Top
Not all holiday looks need to be overtly elegant. For those seasonal events in which a nice pair of jeans will do, Parton saves the day yet again. The singer has perfected the statement-top-with-jeans combo over the years, and I plan on giving it a whirl, too. A colorful blouse with a punchy print paired with high-rise straight-leg denim is perfect for casual dinners and parties with friends.
Statement Earrings
Parton has long been known for her high-volume hair. So, it comes as no surprise that she refuses to allow her jewelry to be upstaged by a bold blowout (or beehive). Big statement earrings in interesting shapes and all manner of sparkle are a staple for the songwriter — and, now, they are for me, as well. This season, I'm investing in extravagant earrings that will serve as wearable art and conversation-starters.