Fall 2019's Biggest Color Trend Is *Very* Unexpected
Courtesy Carolina Herrera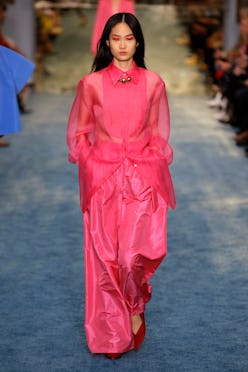 It's no secret that just about every trend is a recycled version of a similar trend that came before it: Cargo pants routinely make a comeback once per decade; animal print's resurgence is still going strong; and oversized suiting is one of the top trends for a second year in a row. And after what felt like seasons filled with modest hemlines, tomboy-inspired silhouettes, and subdued hues, New York Fashion Week is finally switching gears — at least on the color wheel — and not with a traditionally "ugly" color like slime green or mustard yellow. Instead, one of fall 2019's most unexpected color trends is pink. (See? It really is unexpected.)
The shade isn't as electric as hot pink, and it doesn't veer as saccharine as bubblegum pink; instead, it's Schiaparelli pink-adjacent — punchy, but not entirely juvenile — something you might associate with Elle Woods. And the color didn't just pop up once or twice: Downtown-cool brands like Area, Hellessy, and Sies Marjan — the latter of whom dabbled with similarly bright colors for its Spring/Summer 2019 collection — as well as Carolina Herrera, Brandon Maxwell, and Anna Sui all showed some variation on the unseasonably vibrant hue.
"This season we're seeing a continuation of bold, vibrant, statement making colors. Magenta and golden yellow will be huge," says Caroline Maguire, the fashion director at Shopbop. "We're seeing a lot of brands take on the uber-feminine late '90s/early 2000s trend. Heel heights are going up, sleeves are getting puffier, sweet prom-like silhouettes are becoming more common. The pink color perfectly compliments these styles lending itself to the era."
Not only is the color a surprise for fall — a season where we're used to watching deep olive greens, wine reds, and jewel-toned purples populate the runway — but a surprise all-together: Unlike the traffic-cone oranges and mustard yellows of recent seasons past, this specific shade is, well pretty.
At Brandon Maxwell, the designer completely eschewed color all together until look 25, when model Sijia Kang walked the runway in a bright pink caped-shoulder jumpsuit and slicked-back hair. Later, model Grace Elizabeth closed out the designer's emotional Fall/Winter 2019 show in a similarly pink ball gown that toed the line between sleek (thanks to the tailored cut-outs) and confectionary (thanks to the ruched collar and, well, the fact that it was a ball gown).
At Hellessy, designer Sylvie Millstein played with variations on red — including, yes, this specific pink, and Wes Gordon at Carolina Herrera imagined the color in a billowing, sheer taffeta wide-leg suit. He later told Vogue that his inspiration for the collection was what he called "happy colors." At Prabal Gurung, Anna Sui, and Christian Cowan, pink reigned supreme in varying degrees of wearability. (Read: A quilted two-toned coat at the former, a sequined minidress at the latter.)
As for how you can pull off the color IRL, even if you're not a typically into brights? It's easy, Maguire says: "It's all about juxtaposition and color combinations — pair it with neutral tones such as cognac and camel to ease into the trend."
See how more designers are incorporating the bright hue in their Fall/Winer 2019 collections below.