'80s Fashion Is All Over Instagram — Here's How To Pull It Off Now
Olivier Degoulange/Shutterstock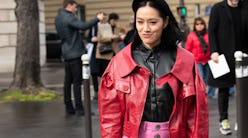 The '80s were defined by some pretty audacious trends. The colors, prints, and silhouettes — to say nothing of the hair and makeup — all embodied a mindset of more is more. But like it or not, the polarizing era in fashion is back in a big way. The rule of thumb for wearing '80s fashion trends in 2019: err on the side of subtlety. If you're reluctant or skeptical about the resurgence, it's time to let go of those preconceptions and keep an open mind. This new-season resurrection is so much more wearable than you might imagine.
Since '80s fashion is admittedly not for the faint of heart, reworking the decade's key styles for contemporary wear can be a tricky endeavor. There's a fine line between an outfit that is '80s-inspired and one that is '80s-themed. Taffeta ruffles and bows, exaggerated shoulders, acid-wash denim, neon and spandex can all quickly start to feel costume-y if you're not careful. Rather, choose one element that resonates with your personal style and build out your outfit around it.
And remember, there is more to the era than the gaudy, ostentatious styles that tend to serve as the stereotype. Popular women's trends ranged from classic American sportswear and country club prep, to artful eclecticism, powerhouse workwear, and lavish glamour. For examples of these different trends, go beyond mainstream icons like Madonna, Jane Fonda, and Cyndi Lauper when sourcing your inspiration, and consider some of the other memorable trendsetters of the time, Princess Diana, Pat Cleveland, Jerry Hall, Brooke Shields, Lisa Bonet, Joan Collins, Sarah Jessica Parker and Grace Jones.
Many of today's style influencers have already hopped on the bandwagon and refined their formulas for the perfect vintage-inspired ensemble. Keep scrolling to see how they're reimagining the '80s for a new era.
New Vintage
Reworking '80s fashion for current wear can sometimes mean literally upcycling vintage pieces. NYC-based brand For Good Luck does this by repurposing vintage evening wear and wedding gowns into dreamy, tie-dyed tops.
Bold Leather
If you've only ever worn black or brown leather, you've been playing it far too safe. Update your wardrobe with haute hides in vibrant hues — and don't be afraid to experiment with unexpected color combinations.
Chains And Spandex
Pair an opulent Baroque or chain-print blouse with long bike shorts for a glam look that's still comfortable and easy to wear.
High Volume
A puff-sleeve party dress has become a fashion-girl favorite in recent seasons — but it's not just for occasion wear. When not styled for cocktail hour with some flashy statement heels, it's surprisingly easy to transition for daytime by swapping in some simple white sneakers.
Laura Ashley-Inspired
On the softer side of the '80s style spectrum is the Laura Ashley look: a sartorial garden party of prairie and milkmaid-style silhouettes in delicate, powdery floral prints.
Bold Blazers
You'll have to get over any issues you have with shoulder pads because they're a non-negotiable part of this time in fashion history. A boxy menswear blazer is ideal for creating that big, structured frame you want. Add relaxed, tapered jeans for a laid-back feel, or wear with leggings or slim peg trousers to create a more exaggerated contrast between the fitted pant-leg and the oversized top.
Power Prints
Play with bold statement prints, like a graphic motif or arty abstract shapes. You can easily dial the impact up or down by mixing designs or pairing with minimalist basics. The same goes for choosing a loud color palette or classic neutrals.
Old-School Denim
When styling '80s-era jeans, pay attention to the silhouette as much as the wash. Acid-wash denim will feel much more authentic and cool — as opposed to garish — with some well-placed pleats and volume.
Loafers Look
A less obvious (but very effective) styling tip: wear classic leather loafers with ankle socks.
Seeing Spots
When in doubt, reach for polka-dots. The classic print dominated the decade and is an easy entrée to the '80s trend. Level up from there by looking for a polka-dot style with other period-specific details, like a dropped waist, square neckline, or ruching.
Stirrups
Is there anything more overtly of the 1980s than stirrup leggings? There's no making sense of how an extra strip of fabric under your foot can totally time-warp a pair of otherwise normal stretchy pants, but it does. Try a leopard print for extra oomph.
Statement Headband
Sometimes one really good accessory is all it takes to achieve an '80s look. A padded headband is perfect for this, whether you choose to amp it up with other throwback pieces (like this colorful check jacket) or not.
A Little Dazzle
Lamé fabric is a good option when you want to wear a metallic outfit, but don't want the full-on glitz you get from sequins and sparkles.
Rocker Chic
Embrace a little bit of that pop-rock spirit that so heavily influenced the 1980s style scene. A vintage band tee and striking tiger print feels just the right amount of edgy punk without putting you over the top.
Ladylike Florals
Feminine florals feel a little less sweet and a little more sultry when the silhouette is short with a cinched waist and sculpted neckline.
Surprise Sizing
Nothing feels quite so boss as wearing head-to-toe leather. Stick to slouchy, oversized shapes — skintight leather is not what we're going for here.
Bow Tied
Oversized bows and rhinestone embellishments are quintessentially '80s. Bring them into 2019 by pairing with blue jeans to balance things out.
Splash Of Neon
Neon has been peaking in popularity this year, but it feels extra '80s-esque in boxy blazer form. Wear it sans pants for a modern twist, and accessorize with some thick gold hoops.
Skirt Suiting
Ladylike meets killer queen when you update the prim skirt suit in a bold, high-contrast color scheme and textural tweed or houndstooth plaid material.
Mixed Materials
If an all-over leather or acid denim is too intense for your taste, do a mix of both instead with a bleach-dappled jean dress or skirt and simple leather vest.
Preppy-Chic
For a sporty ensemble that feels fit for a trip to the country club courts, opt for a color-blocked polo shirt and retro high-top trainers.
Bold Stripes
Can't you just picture Princess Diana wearing something like this oversized pastel rainbow confection? Probably with a pair of low white pumps.
Heavy Hardware
Oversized gold button details, chunky chain link hardware, and metallic accessories add an instant touch of ostentatious glamour to virtually anything you wear them with.
Wild Western
Among the many sub-trends that took hold during the '80s was the Western trend. It put an urban spin on country cowboy themes, eschewing rugged and earthy pieces in favor of more a colorful, embellished interpretation.