The 6 Best Brands To Shop For Cool Statement Jewelry When You're On A Budget
Susan Alexandra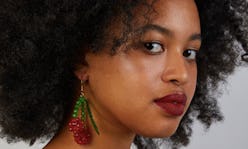 Regardless of how you describe your style, there will always be a place in your jewelry box for simple, everyday pieces. Whether it's a pair of tiny stud earrings or a delicate chain bracelet, these baubles have a way of going with everything — no matter how you style them. However, for the moments when you want to take a maximalist approach, there are gorgeous statement pieces that'll practically steal the show. Of course, just like their minimalist counterparts, eye-catching jewelry can cost as much as the attention they'll garner. That said, there are plenty of affordable statement jewelry brands with pieces to turn heads without putting a dent in your wallet.
As it typically goes with accessories, jewelry has the power to elevate any standard ensemble to an undeniably cool level — and even more so with those of the statement-making variety. And regardless of your personal aesthetic, there are chic jewelry brands that will have conversation starters to fit right in place with the rest of your wardrobe. From colorful rainbow jewelry to romantic floral motifs, you'll have a full range of statement jewelry to choose from.
Whether you're looking for earrings to dress up a simple T-shirt and jeans outfit, or you're shopping for a bracelet to wear for a special occasion, scroll down to see jewelry brands that stock under-$100 pieces you won't be able to stop staring at.
Roxanne Assoulin
Known for its bright and playful pieces, Roxanne Assoulin creates jewelry that simply feels happy. From vibrant bracelets featuring beads reminiscent of Chiclets to colored crystal earrings, this is the brand you want to shop for an added pop of color.
ZAXIE
For those who are looking for glitzy pieces to dress up your ensembles, ZAXIE is your one-stop-shop for elevated statement jewelry. Keep the shell jewelry trend going with pieces like the Pavé Shell Pendant Necklace. Or, sport the Ocean Drive Pavé Shell Hoop Earrings if you want a minimalist-leaning version of the trend.
Soko
Even minimalists want to wear statement jewelry every now and then. In which case, look no further than Soko. Carrying jewelry to wear with any ensemble, the designer's pieces will give your ensembles an elegant touch.
BaubleBar
If there's ever a trend you're interested in trying, you can count on BaubleBar to have a version of it and more. Whether it's items to wear on your next vacation or styles to incorporate into your everyday wardrobe, BaubleBar has it all.
Susan Alexandra
While Susan Alexandra is known for its colorful and eye-catching beaded bags, the brand's jewelry is just as worthy of an Instagram. Translate this summer's fruit-print trend to jewelry with a pair of the designer's beaded earrings or opt for a style to match one of its bags, instead.
Les Néréides
With pieces inspired by the era of Old Hollywood glamour, Les Néréides' baubles feel as if they were found in your grandmother's jewelry or at an estate sale. Wear the brand's colorful pieces with your most casual items for a cool juxtaposition.