This Surprising Reason Non-Color Will Be One Of Spring's Biggest Trends
@sabinasocol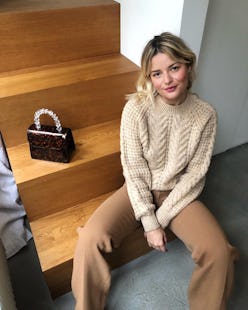 If you consider some of the most prominent color trends of the past few seasons — fire engine red, bumble bee yellow, and of course, slime — the one thing they all have in common is their unapologetic "look-at-me"-ness. So it's a bit of a head scratcher that beige is the MVP of spring 2019 fashion trends.
Proof of beige's impending ubiquity can be seen in recent runway collections from Tibi, Dior, Kenzo, Marni, Stella McCartney, as well as brands who've long perfected neutral tones, like Burberry and Max Mara. For further proof, the color experts at Pantone even reserved four spots in its spring runway trend report for multiple shades within the same neutral family: some more light and buttery; some deeper, richer, and brown.
"It is unusual to see so many monochromatic tones appearing at the same time," says Lee Eiseman, executive director of the Pantone Color Institute, "however there has been a movement to showing similar families of color together. It is always a 'safe' way to go when combining colors as there is a natural blend, especially for those people who don't want to get too adventurous with color and want to keep it low key."
To Eiseman's point, beige does feel quite safe when compared to so many other playful fashion themes of the moment, like tie-dye prints or glamazon '80s silhouettes. And unlike the aforementioned red and yellows that took off in years past, these sandy shades don't exactly command attention in the same way. "Beige is invariably described as warm, soft, comforting, smooth, subtle, understated, natural and expresses good taste," says Eiseman, who explains she uses word association games in her color classes to help students understand the feelings colors evoke. "Occasionally, someone will respond with 'boring' but as a colorist, my goal is to show everyone I work with how the negatives can turn into positives — it's all in the way colors and textures are put together."
Pantone's expert isn't the only one making the case that beige is exciting. Senior color editor of trend forecasting company WGSN, Jane Boddy, also says that that the current wave of beige hues has more to offer than just neutrality. "For the browns and the beiges, the newness comes in a respond to the growing excitement and expressiveness around color," explains Boddy. She points out that beige's popularity is not just about wearing something that blend in, but actually about complementing our more daring style choices.
"As brights have become a focus, neutrals have adapted to contain tints of color. Hints of gold, peach and amber increase the vibrancy of sands, stones and rich neutrals, breathing new life into what were once seen as core basic tones...the added hints of tone has reignited them which has made it more exciting and sophisticated."
This said, for those who are keen to pass on wearing any color that can be misconstrued with a traffic light, the fail safe beige options for spring will offer plenty of more toned-down outfit alternatives. But as experts — and likely a slew of influencers who've already experimented with wearing the color — agree, beige isn't just a one-note, boring backdrop for spring '19. It's got range and it's got the ability to amplify nearly every other piece in your wardrobe.
Keep scrolling to shop beige pieces that may just breathe new life into your wardrobe.
We only include products that have been independently selected by The Zoe Report's editorial team. However, we may receive a portion of sales if you purchase a product through a link in this article.