Vichy's New Hydrating Mask Is The Luxe Drugstore Buy You Need For Summer
Courtesy of Vichy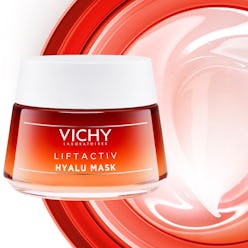 Any savvy shopper knows that the local drugstore is a veritable treasure trove of affordable, effective beauty finds that rival even some of the best department store beauty counter buys. It's worth taking a stroll down the aisles of your neighborhood spot to see what products you can find to add to your shelf — especially if there are any spots in your skin routine that could use an upgrade for the summer. And while you're browsing the beauty section, be on the lookout for Vichy's new LiftActiv Hyalu Mask to give your complexion the extra boost of hydration it needs this season.
The idea of the sleeping mask took hold at the start of this year, and hasn't slowed down since. It's no wonder, considering it allows you to give your complexion a deep skin treatment while you snooze — talk about beauty sleep. Seemingly all the best beauty brands, from high-end beauty counter lines to cult-loved up and comers, have their own iteration of a leave-on mask. And now luxe drugstore brand Vichy is joining the pack.
Vichy's new LiftActiv Hyalu Mask, $40, is available on the brand's site and at Target.com just in time to stock up on the super-hydrating products you'll need for summer. Because between one-too-many cocktails and too much time in the sun, your skin will be looking for a hefty dose of hydration to keep it looking dewy and fresh (instead of dry, red, and flaky). So, how does the drugstore buy work?
The lightweight water-gel mask has one percent of pure natural origin hyaluronic acid, which attracts and holds up to 1,000 times its weight in water for plump, smooth skin. The hydration hero is paired with moisturizing blue agave leaf, and Vichy's French mineral-rich water that boasts 15 skin-strengthening minerals that reinforce your face's moisture barrier to help protect against irritants. The result is skin that looks fresh, firm, and even.
And you'll see an improvement in as little as five minutes, to boot. Apply a thin layer of the paraben and fragrance-free water-gel mask to clean, dry skin and put five minutes on the clock. When time's up, you'll already notice restored suppleness, reduced fine lines, and replenished hydration. Dab off any excess product with a damp cotton pad but don't rinse off the rest — let it soak into skin for long-lasting moisture.
Since the mask should be left on, use it before heading to bed after a long day in the summer sun so you can wake up with skin that feels revitalized and renewed. Vichy recommends using it up to three times a week as part of a full anti-aging regimen.
If your complexion's already calling for a hydration upgrade, go ahead and grab yourself a jar of Vichy's skin-refreshing, summer-ready mask, below.