This Insta-Favorite Skincare Brand Is Launching A New Sulfate-Free Shampoo That Lathers
Ursa Major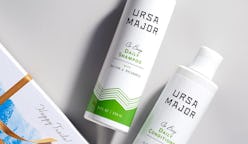 Even if you count yourself amongst those in constant search of clean beauty alternatives to the essentials you rely on every day, there's a chance you may be overlooking one particular area in need of assessment: your hair care. Considering you likely lather up your locks at least a few times a week, it's worth making sure that the shampoo you're using is as natural as possible, right? And lest you sacrifice effectiveness for safety, you'll want to snag the just-dropped Ursa Major haircare products — which include a sulfate-free shampoo that actually lathers.
As seems to be the case in many areas of life, it feels like there's always some sort of trade-off when it comes to beauty. You want a super-effective formula? It'll come at an exorbitantly high price, or may contain some ingredients you'd prefer to stay away from. You want a totally natural product that's safe for you and the planet? The packaging seems flimsy, or the results only last an unreasonably short amount of time. Luckily, however, the world of non-toxic beauty has made a lot of advances in recent years, with brands popping up that are leading the way in creating products that are simple, safe, and effective to use.
One of the brands that's part of this clean beauty revolution? Ursa Major, a healthy line of skin — and now hair — care products that harness the power of nature to offer effective and enjoyable results. The Insta-fave line, which carries top-ratings for many of its products (from an all-natural deodorant to an invigorating daily face wash), has now taken its talents to hair care, with the launch of two new products you'll want to try ASAP.
Ursa Major's new Go Easy Daily Shampoo, in particular, is a total ground-breaker in that it's completely free of the icky ingredients that can be bad for skin and hair — but what it doesn't lack is the luxurious feel you're accustomed to when you lather up in the shower. When using shampoos are sulfate-free, you'll often notice that you have a hard time getting those formulas to suds up enough to feel effective (because sulfates are the synthetic detergents that typically do all the sudsing, and subsequent stripping of your follicles).
So when Ursa Major set out to produce the perfect daily shampoo, the creators made sure to figure out a way to naturally get the lather that everyone's looking for. The formula uses coconut-derived surfactants to give it a creamy, luxurious texture that gently cleanses strands, and leans on macadamia and bergamot to nourish and condition hair for softness and shine. Licorice has also beed added, to naturally combat scalp dryness and dandruff — helpful for healing winter hair.
On top of creating a formula full of naturally-derived benefits, the brand also called on nature for the shampoo's signature scent: a woodsy, rich balance of ginger, balsam and fir that's sure to excite your senses without any harmful side effects.
And if you like to give your tresses some extra TLC after shampooing, Ursa Major also created a clean-alternative conditioner that promises to nourish, smooth, and detangle hair, without weighing it down. Natural additives like jojoba and aloe soak into each strand for moisture and strength, but rinse out easy so there's no greasy after-effect.
Possibly the best part about the brand's new launch? Because it's natural, simple, and suited for all hair types, everyone in your household can benefit from using it — so consider swapping out the several bottles between yourself and your significant other for these two that'll work for the both of you.