Why Paula's Choice's New Face Scrub Is A Gentle Solution For Your Winter Skin
Courtesy of Paula's Choice Skincare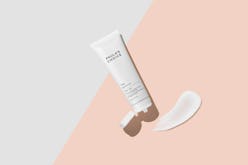 It's no secret that the skincare products you use every day have an effect on the health and happiness of, you guessed it, your skin. That said, it's important to choose beauty essentials that'll be the most effective, but won't contribute to the damaging factors your face is confronted with on the daily — like pollution, UV exposure, harsh weather, and more. Not sure where to find such products? Great news came today to those searching for a gentler way to cleanse winter: skincare brand Paula's Choice announced the launch of its new cleansing scrub, The UnScrub.
Based on its name, and the naturally-derived ingredients included within, you can expect the new launch to be a gentle-on-skin cleanser that still effectively removes impurities, like dirt and makeup, that can clog pores and lead to breakouts. The $29 product is designed to give you a complexion that's clean and smooth, and never dry or irritated. How? With the use of one powerhouse, earth-friendly ingredient: jojoba beads.
If you've never heard of jojoba beads or their benefits, prepare to be amazed by the power of these tiny but mighty spheres. As explained by Lisa Niven-Phillips, the beauty editor of Vogue.co.uk, jojoba beads are a great natural alternative because they're derived from the North American jojoba plant's liquid wax ester. Once the wax substance is formed into perfect spheres, the resulting biodegradable (aka ocean-friendly) beads make for an ideal manual exfoliant because they are far less abrasive than other physical exfoliants like ground seeds, which can cause micro-tears on the surface of your skin.
All this means that you can feel confident in using the new scrub from Paula's Choice on a daily basis, with the peace of mind that your face and the planet are both being treated gently. And if you needed further reasoning to add the gentle scrub into your rotation stat, think about the impending winter skin woes you'll soon be facing.
The very last thing a dry, winter wind-chapped complexion needs is an overly harsh face wash that leads to further irritation and redness — so think of this new arrival from Paula's Choice as a divine intervention, ready to save your skin from months of mistreatment. Stow away your heavy-duty exfoliating scrub and swap in The UnScrub to gently slough off the day's impurities without tampering with your skin's essential protective barrier.
Follow up with an additional cleanser if you wish, like Paula's Choice $18 DEFENSE Hydrating Gel-to-Cream Cleanser. Then, be absolutely sure to reinforce your complexion's hydration levels by slathering on a rich moisturizer that'll penetrate deep into the surface of your skin. Follow this regimen and you'll be left with clean and fresh-feeling skin that's not stripped of the natural moisture it needs to retain balance.
If you haven't already, take this opportunity to get your skincare routine winter-ready by making swaps to gentler but equally effective products to treat skin right this season. Get started by shopping just-launched The UnScrub from Paula's Choice below.