Why Kourtney Kardashian Always Does These Two Daily Exercises In Her Bathroom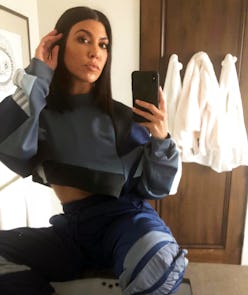 When you're a busy mom who's also running a lifestyle empire, it can be a little tricky to find time to work out. Perhaps that's why Kourtney Kardashian's go-to method for remembering to squeeze in some exercise is tying a couple of her favorite and effective moves to some of her daily bathroom habits.
Given that the bathroom is a popular gym annex for many busy boss babes, Kardashian is in good company: Misty Copeland, for example, does 20 relevés on each foot first thing in the morning, and Christie Brinkley is a fan of doing leg lifts while brushing her teeth. Kardashian's healthy bathroom ritual? A pre-shower power workout that helps her stay toned and confident each day.
"If I know bikini time is coming up or I have a trip or something that I want to be extra in shape for, I'll do dips on my bathtub for my triceps. I'll try to do three sets of 25 a day," she tells Us Weekly. "And then no matter what, I always do 100 squats before I get in the shower because I won't forget it. It's my time."
Since you brush your teeth and bathe on the daily (well, maybe), adding in a quick workout beforehand will ensure you never forget to get your body moving, even on the days when your schedule is jam-packed. Plus, what better reward is there for doing dozens of squat reps than a warm, relaxing shower?
More From Well + Good:
12 Perfectly Fitted, One-Piece Swimsuits For Minimalist Tastes
The Genius Hack To Map Out Your Chic Gallery Wall—No Toolbox Necessary
Why Face Sprays Are The Must-Have Summer Skin-Care Product Of It-Girls Everywhere