Stay Healthy On Vacation With This Equipment-Free, Do-Anywhere Workout
Olesya Kuprina/Shutterstock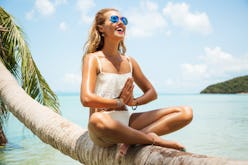 For the most part, going on vacation is a time to totally unplug, connect with yourself, and decompress from some of your daily stressors. And while part of the joy of getting away from it all comes from indulging more than you do at home (less intense workouts, "cheat" meals more often, etc), you might also want to incorporate a few healthy travel tips to stay on track — without having to feel deprived.
Regardless of whether your summer vacation plans include a cross-country road trip or staying at a luxe, waterfront resort, you really have no excuse to sabotage your otherwise healthy lifestyle just you're away from home. Just ask Mandee Miller, a Los Angeles-based trainer and fitness coach who's worked with various high-profile, private clients to make sure their getaways still include plenty of healthy foods (even while enjoying the occasional — and well-deserved — indulgences) and movement, even if it's just a quickie workout that can be done anywhere.
To make your next trip a bit more wellness-focused, without sacrificing a good time, read ahead for Miller's expert tips on feeling your best no matter where you're headed this season.
Stay Active
Just because you're away from your go-to yoga studio or gym doesn't mean your fitness practice has to fall to the wayside. According to Miller, squeezing in a workout is easier than you think — even if you don't have fancy equipment or props.
"When I am out of town, my go-to workouts are typically a 10-minute yoga flow, a 10-minute run (beach run is ideal since it challenges your ankle mobility and core strength), then 10 minutes of bodyweight exercises like push ups, lunges, squats or deadlifts," she explains. "All in all, a workout to last round 30 minutes so I don't feel the FOMO if I am with friends or family for duration of my vacation."
If you want to go a little harder, Miller suggests the option of packing a mini-resistance band (which can easily fit into even the smallest carry-on) and add on some moves like side squats, curtsy lunges, all-fours donkey kicks, and bicycles with the band over your calves or thighs for an added burn. And if you're in a place to enjoy some outdoor activities, let those be part of your fitness routine as well. "If anything at all, I highly recommend moving no matter what for no less than 30 minutes/day while on vacay," she says. "This could mean a brisk walk on the beach or exploring the sites, a bicycle ride, kayaking, surfing, swimming, or hiking."
Eat & Drink Mindfully
You don't want to be a slave to a restrictive diet while you're enjoying you next getaway, but if you do want to avoid over-indulging, Miller does have some sage advice. "Drink a full glass of room temperature water with a lemon wedge before consuming any food served out," she recommends. Often times thirst can be mistaken as hunger, so in addition to keeping you hydrated, this trick will actually help you accurately asses how hungry you are.
Whether you're dining out or ordering in while you're away, the fitness pro notes that if you're trying to make healthy choices, skip deep fried and breaded foods, ask for dressings and sauces on the side, and start with a salad your appetizer so you know you're filling up on the good stuff.
"Stop eating when you are feeling 'full' and ask to have the rest of your meal wrapped in a to-go bag," she adds. "If the table orders dessert, take a bite but don't hog the dish; you're on vacation, so it's ok to have a little of the sweet stuff." That said, she does recommend finishing off whatever you eat a minimum of one-and-a-half to two hours before bed. And above all, be a little adventurous! "Choose a dish that you don't have at home to keep the adventure in dining out," she says.
As for booze, Miller's best advice is to remain hydrated throughout. "I always tell my clients for every alcoholic drink they have, drink 1.5 glasses of water in between," she explains. "This way they feel full, they avoid intoxication, they stay hydrated, and they always have a 'drink' in hand."
As for what cocktails to avoid, Miller suggests you skip super-sweet mixed drinks (like piña coladas, maragaritas, or any drink with more than three ingredients). She adds that clear alcohols such as tequila, vodka, and gin are the lowest calories per serving.
Supplement It
To offset the effects of travel, as well as make sure you're getting in all your necessary vitamins and nutrients, a few key supplements could come in handy. As for the ones Miller packs for her own excursions, magnesium, milk thistle, vitamin b12, vitamin b6, adaptogens (like ashwagandha), and a gut health-boosting probiotic always keep her feeling in top shape no matter where she goes.
Don't Skip The Basics
Vacations can often include a bit more, ahem, recreational activity that you might do in your regular life — meaning a couple extra adult beverages and later nights than usual. For that reason, Miller stresses that staying hydrated and getting a good amount of sleep are even more important than usual to avoid feeling sluggish or under-the-weather. "If you don't get adequate sleep or aren't staying hydrated, it is easier to feel less than amazing on your trip," she explains. "Prioritize your longevity over everything else and you will have the best time with the least havoc on your nervous system and body. You deserve to have the best time and that starts with your mental and physical health."