Don't Forget To Pack This Essential For Your Best Road Trip, Ever
Jacob Lund/Shutterstock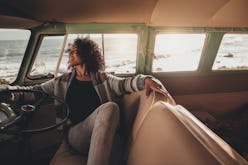 If your summer travel plans include hitting the road with a loved one (or five), you're probably the kind of person who expects the unexpected and welcomes spontaneous adventures. That said, there are some preparations that can help make things go a little smoother — primarily by ensuring that you won't die of boredom. By keeping a few road trip essentials in tow, you can guarantee that you and your travel mate(s) have some entertainment to rely on, all while staying open to what's around the corner.
Regardless of where you're going (or what vacation trend you're following) how you pack can sometimes make or break your vacation. This is especially the case with road trips, considering the fact that you'll mostly be in unfamiliar territory, and potentially without access to both the necessities and the comforts of home that will keep the journey enjoyable. In other words, you won't be constantly asking each other "Are we there yet?"
From healthy snacks to stave off the "hangries" to fitness accessories that will keep your body feeling active and limber, a few key items can totally take your road trip game to the next level. Ahead, find seven essentials — as recommended by some serious travel aficionados — that won't just keep you and your companion entertained, but could help you create your most memorable getaway yet.
Pre-Downloaded Playlists, Podcasts, & Audiobooks
Books and magazines are great — but for those of you who experience motion sickness, digital technology is your best travel buddy. Plus it'll save you some space, as you can just load up your smart phone with everything you need. Victoria Watts Kennedy, Bristol-based travel writer and co-founder of Bridges & Balloons recommends podcasts for those moments when you've just run out of things to chat about. "Podcasts are an ideal way to spend time when you're all talked out," she says. "Plus they give you something new to chat about once you're done listening."
And Brenna Holeman, the creator of travel blog This Battered Suitcase adds that audiobooks are another way to listen and learn along the way. "With audiobooks, even the driver can follow along," she explains. "Pick a book that's made even better by the author's own voice, like Becoming by Michelle Obama or Born a Crime by Trevor Noah."
And of course, a road trip wouldn't be complete without the right tunes. "Service isn't always guaranteed on a road trip, especially in rural areas, so making sure to have lots of fun singalong playlists and a few gripping podcasts downloaded is essential," Holeman adds.
Snacks
Road trip food is a part of the fun, but to ensure that you'll get in a few healthy meals no matter where you find yourself, make sure to stash some nutritious options, like fresh fruit or nuts, in tow. "Don't leave home without snacks," shares Watts Kennedy. "There's nothing like a case of hanger to cast a cloud over any road trip."
Paper Map
According to Watts Kennedy, the benefits of going old school with your map are twofold. "I'm a big fan of ditching Google maps and returning to a good old fashioned paper map," she offers. "It's fun and brings a lot more satisfaction — plus if you bring a sharpie you can map your route and keep the map as a keepsake."
Coffee Equipment
Since you never know where you might end up staying the night (or day), if you're a coffee lover, it could behoove you to bring some quality beans and accessories — like a hand grinder and an AeroPress — to ensure a great cup of joe literally anywhere. "This might sound a little involved, but if you're on a drive in nature with loads of amazing viewpoints, there's nothing quite like stopping at the roadside and brewing up a good cup of coffee," suggests Watts Kennedy. "The best cafe you'll ever go to!"
Workout Gear
"Long hours in the car can lead to stiff muscles and tired bodies," says Holeman. "Downloading a few apps with simple workout and/or yoga routines to do in between driving will keep you feeling your best." And Watts Kennedy suggests yoga enthusiasts don't forget to bring their mat along for a quick flow with a scenic backdrop. "This is particularly good if you're driving somewhere beautiful and can stop for some yoga in the woods," she adds.
Games
Sure there are a few games that don't require you to pack a thing, but Holeman recommends and old favorite that doesn't take up too much space, and can be played pretty much anywhere you stop. "[Cards are a] classic choice for a reason" she says. "You'll never run out of games whether you're playing solitaire on your own or you get your road trip buddies involved during breaks."
"Fun" Camera & Props
These days it's so easy to snap away with your smart phone, so bringing along a film camera (including disposable or instant photo options) can be a cool alternative for creating memories. "Bringing along a special camera adds a new level to your road trip photography," says Holeman. "The photos are perfect for framing or turning into a photo album when you get home."
And bonus points if you plan ahead with a few accessories — like a cinema box or fun props to ensure great photos. "Again, this will add a new layer to your photography, and give you something to look forward to," she adds. "Everyone in the car can keep their eyes peeled for a great photo op. Stop to take a photo every time you cross a state line, for example, or recreate the same pose in a variety of locations!"