This Simple Fruit Salad Will Make You The Hero Of Any Summer BBQ
KucherAV/Shutterstock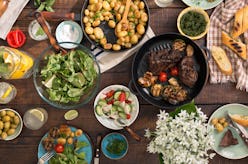 Outdoor entertaining season is in full swing, which means — if you play your cards right — you'll be hitting up (if not throwing your own) al fresco bashes for the next few months. If that's how your summer seems to be shaping up, it might help to have a few simple BBQ dishes in your back pocket for any potluck style parties you'll be attending.
Of course no dinner party would be complete without a chilled bottle of rosé, but for your next BYO-type bash, why not whip up a dish that will wow your friends and family? From twists on BBQ classics to healthier meal options, flexing your kitchen skills can totally make you the hero of any summer soirée — but that doesn't mean you have to make it complicated.
Some of the best BBQ-friendly dishes are also the simplest — but with a few small touches you can make even the easiest ones feel extra special. And even top chefs agree. "We all know and love the classics, like burgers, ribs and potato salad — [but] I like to switch things up a little bit while still keeping it classic," says Executive Chef and Partner Sammy Monsour at Preux & Proper. That said, if you're looking for a crowd pleaser that's also got a unique spin, read on for six simple, chef-approved pool party-worthy creations that will make the next summer function you attend an especially memorable one.
Bourbon Baked Beans
Shane Nasby, the pitmaster from HoneyFire Barbeque in Nashville knows good BBQ. And when he hits up a summer bash, he spikes his baked beans with a special ingredient to really make them a standout. "One of HoneyFire's most popular sides is the Bourbon Baked Beans, made with three types of beans and most importantly, a full cup of bourbon," he says. "For those looking to add some intrigue to their classic baked bean recipe, mixing in a splash of bourbon before they're baked will add next-level flavor." Try this recipe to create something similar.
Cast Iron Mac & Cheese
All good BBQ joint feature mac and cheese on the menu — so of course this dish is a no-brainer. But Monsour recommends and added step that can take this classic to the next level. "We've all had mushy mac and cheese, and my pro tip is to bake yours on high heat (425 degrees) inside of a cast iron skillet to get a golden-brown crispy crust," he says. Want to give this one a whirl? Follow this recipe for a crusty, gooey, crowd pleaser. And if you're taking this to a party, just prep everything ahead of time and toss it in your host's oven for the final step before you serve.
Melon Salad
As the founders of top-rated sandwich joint Wax Paper, Peter and Lauren Lemos know that simple dishes don't have to be boring. Case in point: their take on a fruit salad that's a guaranteed hit at any BBQ. "One of my favorites to make is a melon and fruit salad — that's what you want when it's hot outside," Peter says. For a truly seasonal version, he suggests combining melon, tomatoes, cherries, basil, mint, thinly sliced Serrano chilies, crunchy salt, chili flakes, and a sprinkle of cotija cheese on top. "It is so simple, but delicious," Lauren adds. "The spice and also the cheese element makes it unique. The tomatoes as well, because they are still a fruit, but add a savory element!"
Grilled Rustic Ratatouille
Chef Bryan Podgorski of Jane Q in Hollywood's Everly Hotel has another great option for health-conscious folks: a grilled veggie ratatouille. And besides being light and delicious, it also couldn't be simpler to make. "Slice green and gold zucchini lengthwise about a ½ inch, cut the onions and eggplant into rounds and season with salt, pepper, balsamic vinegar and extra virgin olive oil," he explains. "Grill on high heat for four to five minutes per-side." Remove, plate, and serve. Done and done.
Heirloom Tomato Gaspacho
Podgorski also suggests a dish that not only can be prepared well in advance, but actually will get more delicious over a couple days. An heirloom tomato gaspacho is a cool, refreshing addition to any summer BBQ — particularly because some of the traditional dishes served can be a bit heavy (hello, baked mac and cheese). "It's like having summer in a glass," he says. Another thing to make this dish really sing? A dollop of lime crema, which you can create by combining sour cream with the juice and zest of a lime. And if you need a recipe to follow for the gaspacho, give this one a try.
Summer Berry Spoon Bread
Restaurateur and Founder/CEO of Blau + Associates Elizabeth Blau's summer fave is also one found on the menu at her Vegas eatery, Honey Salt (it can also be found in the cookbook Honey Salt Food & Drink: A Culinary Scrapbook). "Our summer spoonbread is one of my favorite dishes to bring to any potluck, picnic, or pool party," she says. "I love that you can use any berries or seasonal fruit you find at the local market, just make sure they're super ripe and juicy. For a real wow factor, bring a big container of freshly whipped cream or pick up your favorite vanilla ice cream to add on top." And if you can't get your hands on the exact HoneySalt recipe in time, try this for a similar take on the rustic, cornmeal-based dessert.