These Instagrams From The 2019 Oscars Deliver All The BTS Magic
@lupitanyongo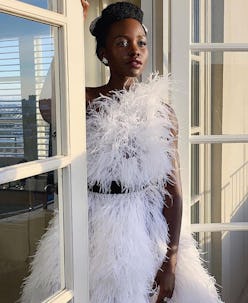 Yes, the Oscars ceremony itself is an extravaganza that has everyone glued to their TV screens. But, in this day and age, it's the social media posts (specifically, Instagrams) that have audiences equally captivated — and this year was no different. The 2019 Oscars Instagram action was definitely something to tune into.
The celebrity attendees of the Academy Awards documented their journeys pre-, mid-, and post-ceremony in gusto, making one feel like they were actually attending the iconic show. And this year's footage left no stones unturned. Makeup and hair chairs where glam teams worked their magic, the car rides to the venue and red carpet themselves, front-row views as the show was filming, and the epic after-parties were featured all over the Instagrams of some of the biggest celebrities.
The couple you can always count on for great BTS footage is none other than Alex Rodriguez and Jennifer Lopez. The dynamic duo always manage to capture some key candid highlights of the night (and manage to look flawless in every one of them).
The stunning Lupita Nyong'o showed off some great pre-show shots of her stunning feathery gown on her Instagram account, and managed to catch the very last hint of daylight so her look was perfectly framed. While gorgeous on the red carpet, the gown's details really dazzle when you see them up close.
To give you all the BTS Oscars footage you may have missed, ahead see the top celeb Instagram posts of the evening.
Lupita Nyong'o
Nyong'o gave her fans a close-up look of her stunning feathered Oscar de la Renta gown.
Alex Rodriguez
Everyone's favorite couple took a moment to capture their pure perfection in a candid selfie.
Gemma Chan
While not as visible on the red carpet, Chan's emerald-green winged eyeliner was on full display for her fans.
Angela Bassett
Bassett was indeed pretty in pink as she waved to the camera en route to the Oscars.
Melissa McCarthy
McCarthy used Boomerang to get a bonus shot of her hilarious presentation with Brian Tyree Henry.
Emilia Clarke
Clarke took a moment to thank her glam squad before she rushed off to the main event.
Ashley Graham
Graham's flawless look (which featured head-turning hair accessories) was captured on Instagram before the red carpet.
Jennifer Hudson
Hudson's beautiful ruffled gown peeked out in this mid-show selfie.