J. Lo's Go-To Moisturizer Is 20 Percent Off At Dermstore Right Now
Michael Buckner/Getty Images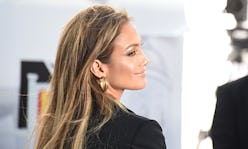 It's official: Winter is in full swing, which means it's time to break out the extra layers, and not just when it comes to clothes. Sure, 'tis the season for down coats and cozy fleece, but what about skin care? Jan. is the time to have thick, creamy moisturizers and decadent oils on deck to keep your skin in check. So why not start with Jennifer Lopez's favorite skincare product, which happens to be 20 percent off at Dermstore's New Year Sale?
By the looks of J. Lo's stellar glow and seemingly ageless skin, it's easy to assume the 49-year-old must use the most expensive skin care on the market, but that's not the case. Back in 2014, the mother of two revealed that her go-to moisturizer is more affordable than you might think — retailing for a budget-friendly $45.
During an appearance on Watch What Happens Live with Andy Cohen, Lopez dished on the beloved beauty staple, revealing she actually picks it up from the beauty aisle at her local Whole Foods. Infused with avocado and rose hip oil hydrate, it's easy to see why the triple threat feels like she's "doing something good for [her] skin" when applying the naturally derived moisturizer.
Despite reports claiming the actor smothers her entire body in luxury moisturizer Crème de la Mer (which rings in at a whopping $1130 per 8.3 oz), rest assured that aiming for radiance akin to J. Lo's doesn't have to mean breaking the bank. If securing the moisturizer Lopez swears by isn't enough to be excited about, there's more. Lopez revealed a few weeks ago that she'll be launching a skincare line of her own this year, which will "encompass all the things I've learned and all the secrets I have." Well, looks like the 2019 forecast calls for bright, clear skin ahead.
Once you've added Lopez's beloved beauty staple to your cart, why not take advantage of other offerings at the sale? Dermstore has everything from beauty tools to facial peels, so take this time to deck out your vanity with all of the fixings for a winter-ready skin care lineup at a fraction of the price. There's a lot to take in, so The Zoe Report rounded up some of the best sale items the site has to offer. Refer to its lengthy participating brands list to find out which products are eligible, then add promo code SILVER at checkout. Your skin will thank you!
Shop The Sale