Lupita Nyong'o Debuted 3 Stunning Hairstyles In One Month
Nicholas Hunt/Getty Images Entertainment/Getty Images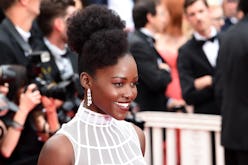 Lupita Nyong'o could wear a burlap sack and you can bet it would be a trend the very next day. The actor's style has evolved so much since she became an overnight fashion sensation during The Oscars five years ago (remember that iconic Cinderella dress?) and her hair has followed suit. Lupita Nyong'o's hairstyles are bolder and better than ever, so why haven't you copied them already?
The Kenyan-Mexican actor has been no stranger to the red carpet this awards season, thanks to her acclaimed role as Nakia in Black Panther. Of course, every look so far has exceeded expectations, from that purple fringe gown she sported during the Golden Globes to the business-on-top-party-on-bottom ensemble she went for at the Screen Actors Guild Awards.
Her best accessory throughout 2019 hasn't been a pair of elaborate diamond earrings or other expensive jewels, but rather her ever-evolving hair. It started with the tapered afro she sported to the BAFTA Tea Party on Jan. 5 (reminiscent of her memorable 2014 Oscars look), then just kept getting better from there.
Ahead, three of Nyong'o's latest to get you excited for her upcoming Oscars look.
Box Braids & Cornrows
Her most recent red-carpet look at the SAG Awards consisted of cornrows combined with box braids, courtesy of the actor's regular hairstylist, Vernon François. Leaving the sides shaven, François incorporated wavy box braids that cascaded from the top of her head down her back. He left a few pieces hanging freely in front, tying the rest into a larger plait in the back, making for an elegant-yet-edgy look.
Subtle Plait
Sure, you saw the bouffant effect of Nyong'o's Golden Globes hairstyle from the front, but you probably missed out on the most important detail if you didn't get a good look at it from behind. In the back, François gathered Nyong'o's hair at the nape of her neck with the daintiest plait, weaving what looked like a strand from her fringe gown into the braid.
Tapered Afro
While Nyong'o obviously loves to switch up her hair, most of her latest styles seem to have something in common. The actor likes to keep the sides of her head shaved down. Her look at the BAFTA Tea Party earlier this year was simple and natural: a lust-worthy tapered afro. François posted a picture of the actor on Instagram with the caption, "Keeping it real."